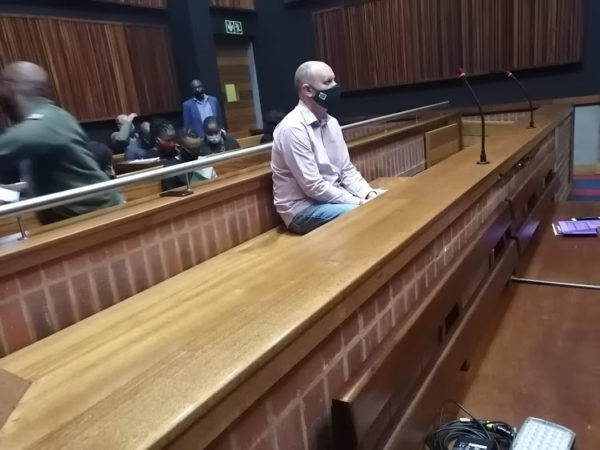 Former VBS Mutual Bank CFO Phillip Truter who pleaded guilty to all six counts charges in connection to looting of funds at the bank has been sentenced to an effective seven years in prison on Wednesday.
He faced two counts of fraud, and a count each of money laundering, corruption, racketeering and failure to submit a tax return.
On Wednesday, the prosecution requested a separation of trials in respect of Truter and the application was granted by the court.
Truter pleaded guilty to all six counts and reached an agreement with the state.
He admitted that he claimed the financial statements of the bank for the year ending March 2017 were accurate whereas, he knew the financial statements were false.
He also admitted to receiving gratification of R5m from former VBS chairperson Tshifhiwa Calvin Matodzi.
Prosecutor Hein van der Merwe explained that in terms of a sentence, all counts should be treated as one and that Truter should be sentenced to a 10-year jail term, three years of which would be suspended for five years.
The court was satisfied with the sentence.
The National Prosecuting Authority (NPA) welcomed the judgment and said this meant the prosecution is ever ready.
It also applauded Truter's honesty.
Hawks spokesperson Brig Hangwani Mulaudzi was also pleased with the conviction.
He said it will send a strong message that law enforcement officers have a strong case against the seven other accused.
Those arrested are: Truter's former co-accused included ex-VBS chairperson Tshifhiwa Calvin Matodzi, CEO Andile Ramavhunga, former treasurer Phophi Mukhodobwane, and former non-executive board members Ernest Nesane and Paul Magula.
The former CFO of the SA Police Service, Phalaphala Avhashoni Ramikosi, and former KPMG engagement partner, Sipho Malaba, were also arrested.
NPA said the other accused were served with indictment, signalling that the state was ready to proceed with the case.
Mulaudzi also added that investigations relating to VBS is still ongoing and more arrests can not be undermined.
Their trial will continue on Thursday.