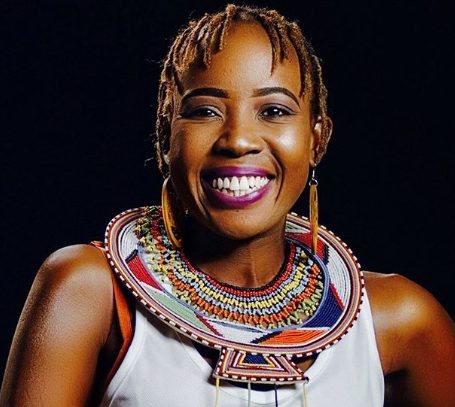 Ntsiki has shown her disappointment towards a new show which was premiered last night at 20:00 titled Izangoma Zodumo. 
The star is one who is not scared of speaking her mind stated she was unimpressed as she slammed the whole cast of the series including the producers.
In her words, the show blatantly disrespect African cultures.
Ntsiki said: "The jews are not ridiculing their own spirituality. The Christians are not ridiculing own their spirituality. But the self hating monkeys are making a mockery of ubungoma on TV. Pathetic and Sad. Blacks need psychological help."
She continued: "Izangoma Zodumo" is all about the lives of two traditional healers Prudence "Ngwe" Magagula and Makgotso "Gogo Maweni" Makopo. This show gains viewers access to the lives of these women who are both gobela's (traditional healers and initiators.)
"I want to point out to black people that Christians and whites have never made a mockery of their spirituality, the Jews have never made a mockery of their spirituality …so black people are you that damaged that it has reached a point where you make a mockery of your ancestors and African spirituality live on TV?
"How much do you hate yourselves, for you to look down on yourselves and let the entire world look down on you," Ntsiki said in the video.
Ntsiki however went further to slam the producers for undermining black people in the show.
"You don't even the brilliance or foresight to teach what African spirituality is, instead you go drag yourselves on the floor like freaking idiots and you think everybody must clap for you after you have undermined your own spirituality," she said.
Ntsiki then added: "I want to find out who the producers of the show are and we must name and shame so that they may never think of creating content that embarrasses us like this … I'm so ashamed and so embarrassed of being black this morning because black (people) hate themselves so much that they would embarrass themselves and ridicule their spirituality."
She concluded by advising: "Mzansi magic: Stop a reality show that discriminates our African tradition and the traditional healing. – Sign the Petition!"
Watch video below:
Blacks hate themselves so much…… Wow pic.twitter.com/7hiqV05Jnb

— Ntsikizayiboni (@ntsikimazwai) October 8, 2020
Mzansi magic: Stop a reality show that discriminates our African tradition and the traditional healing. – Sign the Petition! https://t.co/a5Ya85b6U3 via @Change

— Ntsikizayiboni (@ntsikimazwai) October 8, 2020