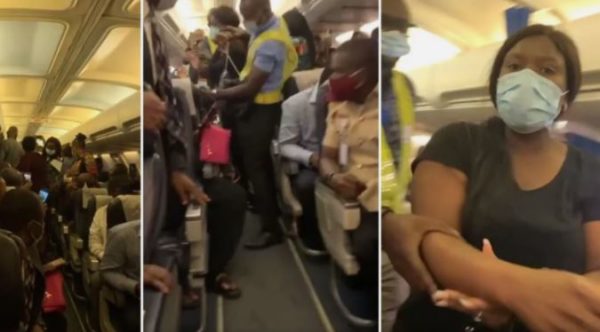 A lady causes commotion on the flight because of her expensive handbag.
The whole drama was revealed in a video captured by Nollywood actress, Belinda Effah, who was also on board.
The Nigerian actress narrated the whole scene.
"On Take Off This Girl Said The Flight Should Turn Around and Drop Her off cos she will not let her bag be kept on the floor or be put in the upper cabinet because it's too expensive."
"We had to make a you turn and security officials escorted her out not after she almost broke my phone for capturing her . I mean I needed to see the expensive bag that caused such a row and got her so riled up. So I had to capture it for the world to see," she narrated.
People who viewed the video found it weird and funny.
Comments be like:
"Please what brand name is that? Can someone pause and screenshot so we check something?"
"They should search it. There is an egg inside that shouldn't touch the ground 😂 chai"
"It's not the handbag ooo… it's the content inside the handbag 😂😂😂 she was given a specific instruction and it must be adhered to even if it means leaving the flight 😂 Wonders shall never end."