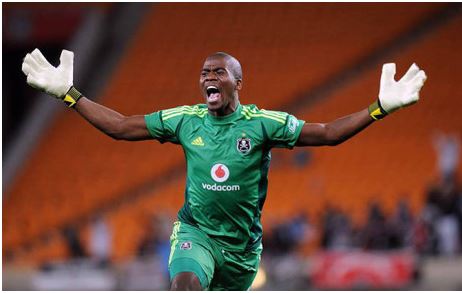 Senzo Meyiwa's mother, Ntombifuthi has finally spoken following the arrest of five suspects who might be involved in the murder of her son.
Senzo was shot dead in East Johannesburg and ever since then, his family and friends have been trying their possible best to get to the root of the matter.
Senzo's mom opened up about her thoughts on the developing situation.
She said: "Six years ago I lost a child, but today I feel like he's risen from the grave. It's a bitter-sweet moment for me and the entire Meyiwa family."
The news of the arrests came while the nation and football fanatics' commemorated the sixth anniversary since the former Bafana Bafana and Orlando Pirates goalkeeper was murdered.
The footballer was shot at the home of his ex-lover and baby mama, songstress Kelly Khumalo in Vosloorus.
He subsequently died in hospital.
Although it has not been confirmed, but it was reported that Kelly was among those who got arrested yesterday.
In pains, Ntombufuthi stated: "I have lived with excruciating pain, a wound that has not healed six years after the death of Senzo. What made it even more painful is the fact that his killers were not arrested. I cannot even begin to describe the pain that I've suffered for the past six years. "
She added: "I can't wait to see the people behind the death of my son." she added.
Senzo's mom also wished her husband, which is Senzo's dad was still alive to witness how justice is being served.
"That's why I say It's a bitter-sweet moment for us as the family because his father, who had fought to see justice being served, is no longer around to witness this day," she said.
Check out some of the reactions from South Africans:
The Senzo hitman/assassin story is another cover up, there's no nkabi that leaves witnesses behind to tell the tale, moreover no nkabi has ever used 3 bullets, missed with 2 and hit a target with 1 at a close range in the history of SA assassinations.

— I-AM-BLACK-FIRST (@mphikzo) October 27, 2020
I'm so happy for Senzo Meyiwa's family. Ma brother was murdered in East London weeks before Senzo; same year. And to this day his killer was never caught.. Police are useless!!

— B-MoneyBagz ➐ (@BongzTheGreat) October 27, 2020
Why would Senzo's best friend protect Kelly? This tells me that the master mind wasn't in that house, Senzo's wife killed our Senzo😭😭😭😭#SenzoMeyiwa pic.twitter.com/jk0vIIgbZ2

— Khuzwayo (@Khuzway18608725) October 27, 2020