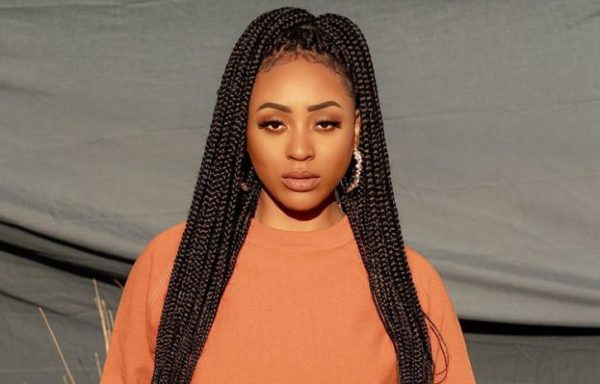 Nadia Nakai seems not to be taking it likely with South African men as she is tired of being manipulated.
The star took to the Twitter street to say how painful it is to love someone but they are truly not worth the love.
Nadia said: "Some people are really evil Psychos!!!!! Tryna stay away from all the negative ish! Cos wow 2020 has been hectic on myself and my people."
Although she did not state the reason why she is talking about this but some felt she has really faced a lot with men.
The musician's tweet got the attention of many.
Nadia tweeted, "Narcissists are really amazing at acting like they did nothing wrong… wow… it has to be a form of mental illness I swear. I think it can also be link to a person's self-worth, deep down they know they actually ain't worth shit."
She also mentioned a friend of hers who had proven her point that South African men continue to poorly treat women.
Nadia went on to state, "Hai, South African me are sooooooo hectic! My girl was telling me about her ex attacking her and pulling out her braids at a club, even tho they had broken up and he was even there with his current girlfriend! Liiiike Psycho perhaps. More often than not they serious mental Abusers as well! Telling you all kinds of shit! Then you wonder why you couldn't walk away years ago! Honestly I wish they'd all just drop dead." 
Many felt her friend's story might be the reason she is coming out but some offered her advice on how to block negativity.
"Sometimes is hard when they still contact your family and friends like they didn't do shit wrong! So like after f*cking you up! He still gonna contact your confidants and make you feel even less of a human! When all you want is for them to leave you the F alone! Yoh! Women are going thru a lot in SA!!!!! Like how are you even supposed to Recognise a good man when you've just been served shit?". 
See her tweets below:
Narcissists are really amazing at acting like they did nothing wrong… wow… it has to be a form of mental illness I swear 🤦🏾‍♀️

— Practice ft Vic Mensa (@Nadia_nakai) October 29, 2020
I think it can also be link to a persons self worth, deep down they know they actually ain't worth shit. https://t.co/TwlOq6MpTR

— Practice ft Vic Mensa (@Nadia_nakai) October 29, 2020
Hai, South African me are sooooooo hectic! 🤦🏾‍♀️🤦🏾‍♀️

— Practice ft Vic Mensa (@Nadia_nakai) October 29, 2020
My girl was telling me about her ex attacking her and pulling out her braids at a club, even tho they had broken up and he was even there with his current girlfriend! Liiiike Psycho perhaps.

— Practice ft Vic Mensa (@Nadia_nakai) October 29, 2020
100% and more often than not they serious mental Abusers aswell! Telling you all kinds of shit! Then you wonder why you couldn't walk away years ago! Honestly I wish they'd all just drop dead. https://t.co/KifANCDg5p

— Practice ft Vic Mensa (@Nadia_nakai) October 29, 2020
Sometimes is hard when they still contact your family and friends like they didn't do shit wrong! https://t.co/Gjk7A0ubmb

— Practice ft Vic Mensa (@Nadia_nakai) October 29, 2020
So like after fucking you up! He still gonna contact your confidants and make you feel even less of a human! When all you want is for them to leave you the F alone! https://t.co/S6QNuoTurq

— Practice ft Vic Mensa (@Nadia_nakai) October 29, 2020
Yoh! Women are going thru a lot in SA!!!!! Like how are you even supposed to Recognise a good man when you've just been served shit?

— Practice ft Vic Mensa (@Nadia_nakai) October 29, 2020
I'm stressed coz there's to many people I know that go thru this shit and feel like they need to keep quiet cos of the mental manipulation… not all of us have Gangs to sort people out… https://t.co/hr0sWJhZhT

— Practice ft Vic Mensa (@Nadia_nakai) October 29, 2020