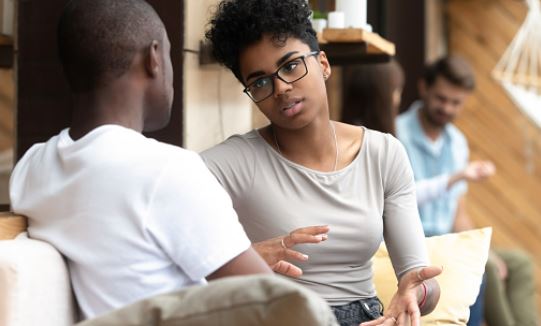 Not every relationship ends up working out and at times we just end up feeling like the relationship is not making sense or end up feeling like we rushed into a decision.
All this is normal and it's important to learn how not to force yourself into relationships. By staying in a relationship you are not interested in, you might end up hurting the other person.
Well, there are many reasons why you would like to break up with someone and before making this decision, it has probably taken you some time to establish that you would not want to continue dating them.
It's important to be selfish at times and make decisions that are beneficial to yourself. But in the process of doing so you don't have to hurt someone or ghost someone just because you felt like it wasn't working out for you.
Unless your partner is abusive or threatens you every time you want to walk away, be mindful of the other person's emotions as you break up with them. Here's how you can break the news without ghosting:
1. Be honest
It's important to be honest about the reason why you would like to break up with them but remember not to be brutally honest. Telling someone you want to break up with them is already bad enough you don't need to bring your attitude to the table.
2. Say it in person
Ghosting seems easier, to be honest, but you need to master the courage of facing them. Unless they are violent, you can ask them to meet you for coffee or lunch and share the news of the break up with them in person. It comes out as somewhat disrespectful to break up with you over the phone.
3. Don't make it too tough
It's important to make your stand but also remember to do it graciously. There is a chance that they will not want to break up with you and end up begging for a second chance and all, but you need to make it clear that it's a choice you have made after a long time of thinking and that is the best choice for you.
4. Talk to someone about it
Delivering break up news is not easy and you might be tempted to just leave without having to deal with the emotions or drama that comes with it. It's important to talk to a close friend in order to gain courage to meet the person and break up with them in a proper manner.
5. Make sure that you have made the right decision
You need to be certain about your decision so that you don't end up handling things in the wrong way. Take time to think about it and make an informed decision on why you want to break up with someone. This will help you be able to face them.