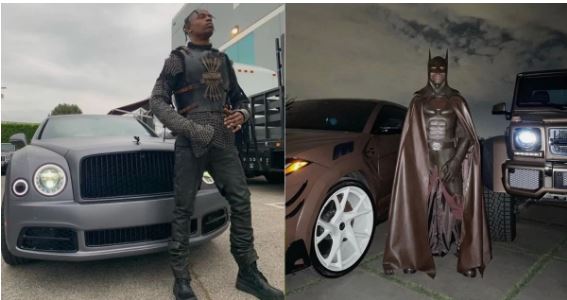 Travis Scott has reportedly deleted his Instagram account following the harsh comments he got for putting on a Batman costume.
The star was dragged for wearing that costume for Halloween.
Travis rocked chocolate-brown Batman costume which he shared on his social media but fans were not having it as the compared him to a cockroach.
Reacting to this, he decide to delete his account when he saw the snap was attracting negativity from social media users.
A tweep  named @RodeoTheAlbum took to Twitter and shared Travis' pic in the Batman costume.
Travis Scott dressed as Batman for halloween 🦇 pic.twitter.com/WqWbgMLwXj

— 🎪 (@RodeoTheAlbum) November 1, 2020
See reactions from fans:
his abs be built like this 6 pack of chocolate😂😂 pic.twitter.com/wnjZrftYdl

— Jay (@Lilguyjay) November 1, 2020
😂😂😂 RIP Big Black pic.twitter.com/ZDNMmeiLsZ

— 🐜 👁⃤💸 (@RaphSimpson) November 1, 2020
His calling pic.twitter.com/2VwwmKnojj

— Its Yo Boy (@CruzTheLonely) November 1, 2020
Someone should've told him the color of Batman's suit

— BandGang Lonnie Bands Fan Account (@tacosoverrated2) November 1, 2020
Nigga The "Brownman" pic.twitter.com/jv69hU3W0A

— ❌🧢 (@S_auce) November 1, 2020