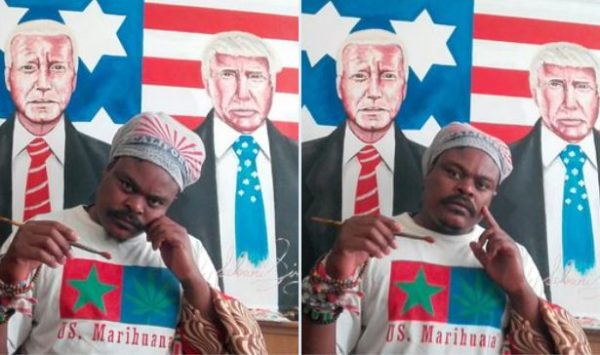 South African celebrity painter, Rasta is at it again with his controversial painting, but this time around, he takes it beyond Mzansi's borders, as he paints the famous top US electoral presidential candidates for 2020, Donald Trump and Joe Biden.
The 2 candidates have their names on people's lips for months on who will be the new president.
However, Rasta decided to show off his painting of the 2 men on social media, and as usual he's recieved attention of South Africans with his latest work.
Rasta Please Rest pic.twitter.com/oyHPW2Dlmb

— KHULEEKANI (@KHULEEKANII) November 4, 2020
🤣🤣🤣🤣🤣🤣

— 'Mamokuena MAKHEMA (@UtaMakhema) November 4, 2020
Ke le chap uLasta🤣😂😀😅😎 pic.twitter.com/osEEXrHICb

— 🛡🎙Nkosiyedwa Sam🎧🎶🎼 (@NkosiyedwaSam) November 4, 2020
They do😂🤣😂 pic.twitter.com/YcVox92rQN

— 🇿🇦SirLancelord (@lancelordwhite) November 4, 2020