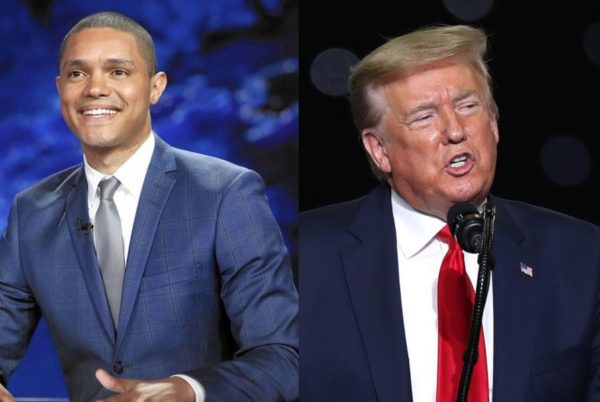 Trevor Noah appears to be on social media trending list on Saturday night, and this was triggered by Donald Trump's loss at the United State presidential election, for the 46th president.
South Africans are worried for the comedian who has numerous jokes inspired by Trump.
Even after Joe Biden is being congratulated for becoming the 46th president due to the Pennsylvania. win, Trevor still dropped a comic video on Donald.
Taking to Twitter, Mzansi feels sorry for Trevor, as he might be out of content due to Donald's loss.
From Trevor Noah: https://t.co/9KiAFBsEPb

— michael (@MParekh) November 7, 2020
trevor noah's entire commentary was riding on his win again….. NO MORE DAILY SHOW! NO MORE STUPID ACCENT EITHER! pic.twitter.com/dNICTbBv2H

— SO? (@bratzdreamhouze) November 7, 2020
TREVOR NOAH HAS NO JOB 🇺🇸🇺🇸🇺🇸🇺🇸🇺🇸🇺🇸🇺🇸🇺🇸

— David Saucedo 🥂 (@DavidSauce_) November 7, 2020
Yikes Trevor Noah's career might be over 💀💀

— Ben McClenahan (@BenMcClenahan16) November 7, 2020
Feeling bad for Trevor Noah

— Ambika Sankar Guru (@Ambika_sankar) November 7, 2020
Trevor Noah and SNL writers trying to come up with new material after Trump is gone pic.twitter.com/LNq7s3LPOi

— 🐒 Sadie.pdf (@deadsadie) November 7, 2020
Trevor Noah going for the daily show knowing he won't statpad Trump jokes againpic.twitter.com/gvJDh5FUrf

— ️️ ️️Kaliisa🧊 (@kaliisa_5) November 7, 2020