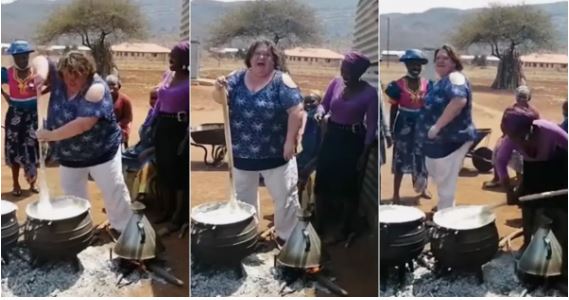 A viral video of a woman named Marie Louise is all over social media after she was seen stirring a large pot of pap in Limpopo.
According to her, she was at her friend's wedding and she is happy to grace her with her presence.
Although it was really hot but Marie made sure she did it and Facebook users are really impressed with her moves.
She also said that she has full respect for Limpopo ladies as it is not easy to stir a big pot as she gives up but the lady next to her shows her how to do it properly.
The lady who is helping her in the video screams in a friendly manner to "try again" at Marie-Louise, who is more than happy to oblige and has another go at stirring the large pot.
She shared the video in the Facebook group, #ImStaying.
"I tried my hand at making pap but I tell you, I have respect for my sisters as it is not as easy as they make it look," Marie says.