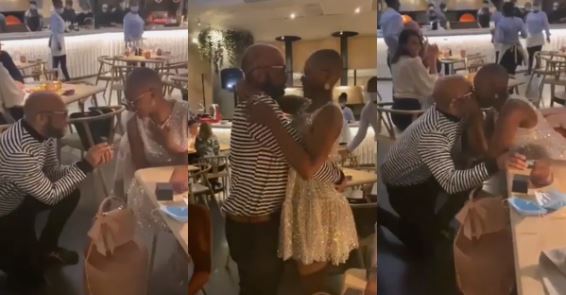 A proposal video have gone viral and Mzansi are loving it.
A local Sangoma too to his Twitter to share a clip of hiw her man went on his knees to pop up the question at a restaurant.
According to the post she shared, she revealed her man has been with her all through her transition as a sangoma and she is lucky to have someone like him.
She went on to say he also paid her a salary while she wasn't working.
Seeing the video, a lot of congratulatory messages have been sent to her as they wish her all the best in her new phase in life.
She said: "This man accepted my spiritual gift & then some. Paid me my salary while I took a sabbatical from work. Organised his family to attend my ntwaso. Held our family down as a single parent during my 4 months ephehlweni. Tonight he re-proposed. This time, for you and idlozi"
Watch video below: