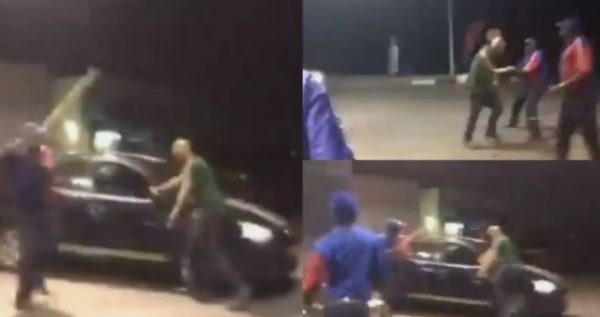 An old video of some petrol attendants at an Engen garage beating up an unknown man has resurfaced again on social media, and Mzansi still can't get enough of the footage.
The hideous event was reported to have happened in 2017 at Namibia.
The unknown man allegedly refused paying for the service rendered him and also assaulted one of the petrol attendants.
South Africans flooded the comment with different reaction as the old video resurfaced on social media again.
The video isn't for sensitive viewers: Watch below
He used the K word pic.twitter.com/7VPSviqhHh

— Sizwe sikaMusi (@SizweLo) November 23, 2020
Reactions be like:
That is so true, one would swear being humble and nice is a requirement for being a petrol attendant 🤞🏽

— 👑NubianGod👑 (@NubianGod5) November 23, 2020
Favorite part at 0:22 🤣🤣🤣that "Ahhh" pic.twitter.com/6SliaIwTvw

— Zonke 🌺 (@Zithandile21) November 23, 2020
Tlhogo ya Manyama straight 🤞🏾

— Benard Ntabi Rabotho (@BraNtabi) November 23, 2020