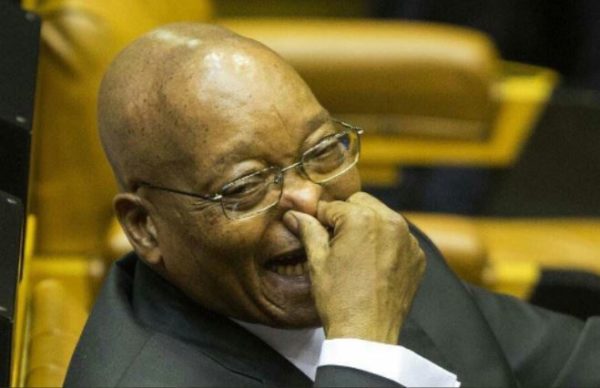 Mzansi flood social media with different talks on what former president, Jacob Zuma would have said on Monday night, if he were in Cyril Ramaphosa's position.
Zuma trends on social media, as people dropped decisions that seemed like the ex-president's handwriting.
On the evening of 14th of December, Cyril had another family meeting with the nation on the increase in cases of COVID-19 in the country, despite being warned over a second wave.
The President said beaches are now closed, Curfew is now from 11pm to 4am; indoor gathering beyond 100 is not allowed.
However, hilarious suggestion and meme of what Jacob could have said flood Twitter.
Check some out below:
#cyrilramaphosa if it was Zuma he would have said be safe and enjoy.😕 pic.twitter.com/zmeaDD4rBP

— Dimpho 📿🌻 (@sphesi18) December 14, 2020
#cyrilramaphosa

Jacob Zuma would have laughed firat and said " masewula afurika akufiwe klaar singasolo sizincisha inice time" pic.twitter.com/4OHjXUc2L3

— Nonkululeko (@Mony60631773) December 14, 2020
I Miss Jacob Zuma 😭😭😭#FamilyMeeting
#cyrilramaphosa pic.twitter.com/50fN8AmntP

— Phineas Tlhabane🇿🇦 (@PhineasTlhaban2) December 14, 2020
I really wish Jacob Zuma was president right now, imagine the whole "bitches" in his accent #CyrilRamaphosa pic.twitter.com/MHTep8MTGV

— イブラヒム (@mizar_za) December 14, 2020
Zuma would've closed Cape Town too and had a chuckle about it 😂♥️

— Harper (@WayneH__) December 14, 2020
I know Zuma was a bad leader but that guy had guts he would have dealt with Western Cape the home of epicenter decisively pic.twitter.com/Mhv0eGJvSq

— Abuti Tshepo (@tshepo_mashiles) December 14, 2020
I wish Zuma was still president. #FamilyMeeting #cyrilramaphosa none of this Western Cape mess would be happening. pic.twitter.com/EgkVx0I3aP

— Rato ❤️ (@_LiraRae) December 14, 2020