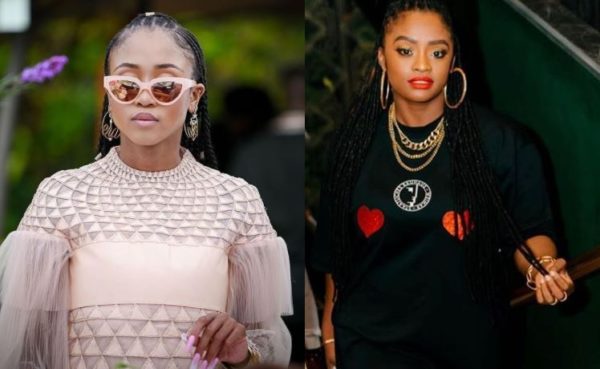 Moozlie and Samkelo Ndlovu have been dragged by South Africans after escalating their beef saga on social media.
In a video shared, Samkelo is seen calling out Nomuzi for pouring drink on her after performing at Altitude beach.
The actress turned musician claims the rapper is jealous of her, and she needs an apology before things get worse.
However, Mzansi claim the two are doing publicity stunt in other to promote their forthcoming music project and single.
Moozlie made it hard for people to trust her due to the PR stunt she pulled on the nation in 2019, after it seemed like she was involved in a car accident during a Live Instagram chat.
Lots of people were scared, thinking she was really in danger, but the rapper later came out claiming it was an advert.
Reactions to the two artistes beef are:
We were once fooled ka that accident video ya Moozlie… Nna ha ke tshepe niks that involves her… Why ba sa shapana maobane after drinks were flowing in people's faces pic.twitter.com/PKaLMBCMAc

— Lebza (@_LebzaH2O) December 17, 2020
#Samkelo….lere moozlie o dirileng?.. I'm betting on Samkelo pic.twitter.com/KkWLRdeJIq

— Dominant Montex (@Dominant_Montex) December 17, 2020
I hate how these artists create fake drama to market their upcoming projects. Samkelo is dropping a new single on the 25th, the 'beef' with Moozlie is for attention seeking pic.twitter.com/HdHcDKBaKz

— Moses (@Moses_Buju_M) December 17, 2020
I still haven't forgiven Nomuzi Moozlie Mabena for this 😭 pic.twitter.com/H8ChK84X0x

— K U L A N I (@kulanicool) December 17, 2020
What a way to promote Moozlie's album…💀 PR stunt. pic.twitter.com/Xwd26pIRiY

— Katlego🙂. (@katTshabalala1) December 17, 2020
Imagine being told that you have a 12-13 ass.
Samkelo doesn't feel Nomuzi Moozlie shame… There's no clap back from this. 😭😂 pic.twitter.com/ytPlLXr5np

— Xolani Ngcobo (@XolaniNgcobo167) December 17, 2020
Moozlie and her actress friend must understand that we don't care about their drama on twitter. Ba badala la bantu for le kaka along with the kaka single pic.twitter.com/q6StSo74K5

— Efkay Lele Legodi ⚪ (@lele_efkay) December 17, 2020