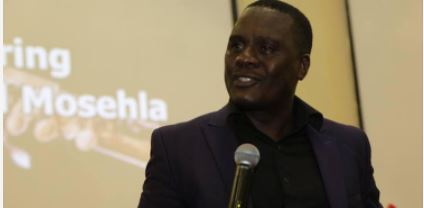 Gospel star, Israel Mosehla has passed on.
The star is currently trending on Twitter as many of his fans and other celebrities took to their TL to pay tribute to him.
He died at the age of 50.
Isreal's death was announced in the early hours of today by his wife, Millicent Mosehla.
Although the cause of his death has not been revealed but many have shared their last words.
"Yes, Israel has passed on," Millicent said, adding that a family spokesperson would be appointed to share more details.
Let's take a look at some things about the star.
The Soweto-born gospel artist came from a family of worshippers, as both his parents were preachers and musicians. The family released three albums with Gallo in the 80s.
Israel, together with his brother Isaiah Mosehla and two friends: Bongani Matsobane and Jabu Nkabinde formed a dynamic gospel group called G. Effect, before he ventured into a successful solo career in gospel music and ministry.
Gospel stars such as Lebo Sekgobela and Bucy Radebe, as well as radio personality Twasa, joined hundreds of other fans to offer their condolences on various social media platforms.
Here are some of the tweets below:
You sang at my dad's funeral two years ago. My heart is aching as I hear of your passing. My heart is heavy. I need grace just to get through the show today. Oh Modimo, bona bana ba hae le mofumahadi. 😭😭😭 Rest in Glory @IsraelMosehla… #monatebreakfastshow #RIPIsraelMosehla pic.twitter.com/aM1CF4rKlq

— SustainedMomentum (@Twasagirl) January 11, 2021
A great worshipper has fallen 💔💔😭😭 #RIPIsraelMosehla pic.twitter.com/PgWNEj3a23

— Shad MyShadz (@shad_myshadz) January 11, 2021
Pastor Israel Mosehla's passing touched me as much as Pastor Neyi Zimu's passing did😭Andikho right bethuna#RIPIsraelMosehla pic.twitter.com/QRDbCF5QD9

— Molefi Mosothoane (@Strauzzy) January 11, 2021
#RIPIsraelMosehla Rest in eternal peace Ntate Mosehla. 🙏🏽❤️😭 pic.twitter.com/wdHMME7FEk

— 🅓🅤🅓🅤🅩🅘🅛🅔🎶🎶🎶🌸🌸🌸 (@DuduzileZondo4) January 11, 2021
My heartfelt condolences to the family of Israel Mosehla. May god give them strength to bear this immense loss and may his soul Rest In Peace 🙏#RipIsraelMosehla pic.twitter.com/YRK9TKc7xb

— Manics (@Emmanuel_Moraba) January 11, 2021