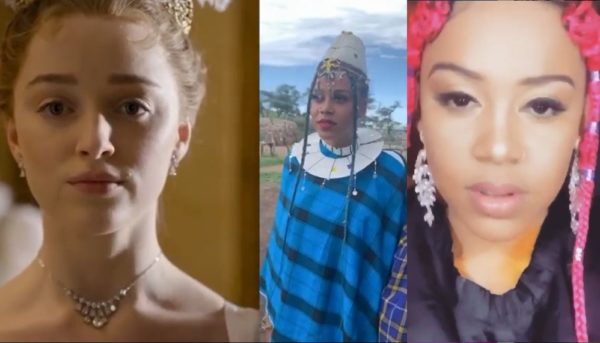 Sho Madjozi looks stunning as she channels the heroine in the famous Netflix series, The Bridgerton.
The series evolves the romantic relationship between a beautiful lady called Miss Bridgerton and Duke Simon.
In a video shared by the South African singer, she played out some scenes in the series with a guy and some persons in a village in Tanzania.
"Life in the Ngorongoro conservation area where there's room for both wildlife and people. Like this Maasai village called Lerai which makes a living from welcoming tourists. They asked me to tell my friends about them so they can get more visitors. So, my friends… WELCOME TO #BRIDGERTON," she captioned post.
The video has garnered over 41k views within few hours of sharing it on social media.
Netflix SA applauded the singer, "lawless my dear @ShoMadjozi absolutely flawless."
The Ngorongoro conservation area is home for both wildlife and people. Like this Maasai village called Lerai which makes a living from hosting tourists. They asked me to tell my friends about it so they can get more visitors.

So, friends…

WELCOME TO #BRIDGERTON 😁👸🏽💫 pic.twitter.com/hWxUNUnwaB

— What a Life (@ShoMadjozi) January 26, 2021