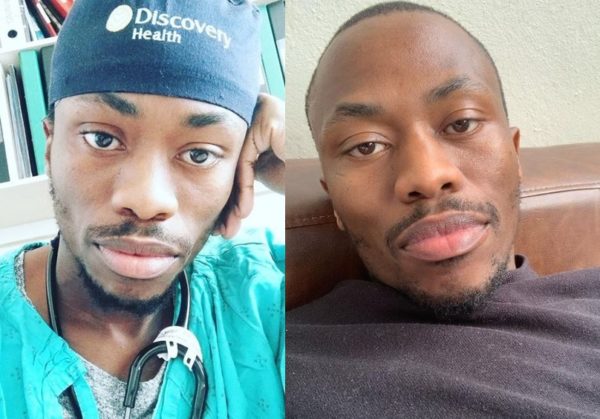 Young South African doctor, Melusi Dhalamini shoots himself at the leg after bragging on how he made someone commit suicide.
Melusi said he did it because of the person's homophobic comment on his Facebook status. The doctor says he will gladly do it again to anyone who makes derogatory comments.
"I've told you the story of how I got someone blacklisted from ever registering at any university in SA until he killed himself? All because he wrote a homophobic Facebook status. I'll do it all over again, without even flinching," Melusi tweeted.
However, the young doctor has not only taken down his tweet, but has also deleted his Twitter account, as South Africans cancelled him immediately for making such hideous confession.
This is disgusting his deactivated his account Find Melusi And have him lose his License this is so Evil😭😭😭 pic.twitter.com/aGnLfzHt3V

— 2021 AFRICA (@2021AFRICA) January 26, 2021
The problem isnt that Melusi reported someone for being homophobic, the problem is that he is PROUD that it resulted in death. People who are homophobic deserve to be reported the same way we constantly report racist people, but he is a medical Dr. Don't brag about death.

— MPHO 🌻 (@MphoMoalamedi) January 26, 2021
That Melusi dude is sick, even if people have issues against the Aquafresh team, the killing of another human cannot be a solution to any problem. He celebrated the death of another human being. He says he is the reason why someone committed suicide and he can do it again! Sick!!

— S E P H I R I❄️ (@sephiritsikeli) January 26, 2021
This is the how the devil looks like, he has no horns no red eyes no dark skin no hoofs…..satan, abortion Doctor and all things evil in one person

Melusi#DrDhlaminiMustFall#Melusi pic.twitter.com/CSuy1mMIFW

— ZAR 50 million (@realnorma_kay) January 26, 2021
Melusi's Career on the line just for 1 tweet 😳😳 think before you tweet guys, likes and retweets won't bring you food.#Melusi pic.twitter.com/e76AzQgAkU

— Mfundoyakhe Shezi 🇿🇦 (@Mfundoyakhe_S) January 26, 2021