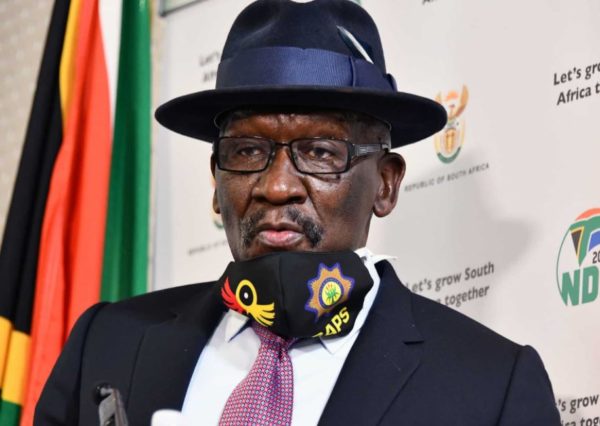 Bheki Cele trends on social media as some South Africans wants him dead.
The Minister of Police attracted hate on himself due to his strict and emphatic action towards the ban of alcohol in South Africa because of COVID-19.
The people claim he needs to pay attention on other vital issues such as GBV.
However, following the death announcement of Minister in the Presidency, Jackson Mthembu, some tweeps claim the late Minister has gone to pave way for Bheki.
Check out comments and reactions below:
Imagine if Bheki Cele was your dad, uncle or aunt,,, and you wish him death💔 poeple are cruel pic.twitter.com/oy607J69ub

— TSWANA MAN WITH SOME POWER (@George_Mogwase) January 21, 2021
People really hate Bheki Cele. pic.twitter.com/JSzhyM2Bru

— Man's NOT Barry Roux  (@AdvoBarryRoux) January 21, 2021
Bheki Cele literally said people who were complaining about human trafficking were doing it for publicity, he literally doesnt care about GBV and rape and yall think people hate him because of Savannah?

— MPHO 🌻 (@MphoMoalamedi) January 21, 2021
You really can't blame people for wishing death on Bheki Cele.This is a Ministers who prioritizes arresting people who ain't wearing mask,sell of alcohol over human trafficking, Drugs and GBV. People are angry their children are being raped and trafficked pic.twitter.com/y5aZfSm1gR

— 🇿🇦🏳️‍🌈Mandlakazi (@SphamandlaM_) January 21, 2021
You guys are wishing death upon Bheki Cele? Nooooopic.twitter.com/pUV0DVQ6u4

— Wow, That's Crazy🤯 (@DumiCarl) January 21, 2021
What is wrong with our people?

Do we suffer from self hate so much that we would wish death on our own kind?

We might differ politically with Bheki Cele but that doesn't mean that we should even wish him death.

He is human too!

— Andi Motsepe (@AndiswaMadikazi) January 21, 2021
Bheki Cele and Lindiwe Sisulu are the top 2 ministers I dislike with all my heart and soul

— Khaleesi (@uMaZwane) January 21, 2021
RIP Jackson Mthembu man, it should've been Bheki Cele https://t.co/BngS2NvMhP

— beyoncé (@hghforhours) January 21, 2021
Bheki Cele must die like everyone who is diying pic.twitter.com/vHQ6jhRv1M

— Mr Mtolo🇿🇦 (@Mtolooooh) January 21, 2021
What do you expect when women are being abused and trafficked, criminal activity is peaking while the only think Bheki Cele knows is "alcohol"? https://t.co/FRyqPgnn4h

— Thendo Muloiwa (@MuloiwaThendo) January 21, 2021