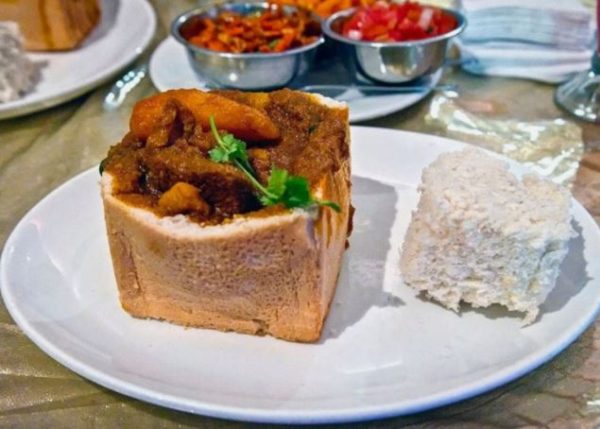 The bunny chow dish is proudly Durban. The dish is probably one of South Africa's most loved street foods.
From the unique casing to its excellent Indian curry, you can never have enough of the South African cuisine. The good news is that the preparation of the bunny chow Durban delicacy is quite easy.
The probability of finding the South African Indian dish in India is next to zero. Even though the dish is Indian, it particularly identifies with the Indian community living in South Africa and not in India.
The history of the much loved South African cuisine dates back to the 1940s with a not so sweet story behind it. However, in recent times, the popular delicacy is used as the main course in meals.
Find out how to make the dish using the South African bunny chow recipe.
2 tsp olive oil
1 large onion, chopped
2 garlic cloves, finely chopped
1 tsp finely grated fresh ginger
1 tsp cumin seeds
1 Tbsp finely chopped coriander stems
¼ cup curry powder
10 fresh curry leaves
500g chicken thigh fillets, cut into 1cm pieces
1 x 400g can diced tomatoes
400ml water
2 large potatoes, peeled, cut into 1cm pieces
Mini white bread rolls, to serve
1 bunch fresh coriander, to serve
1. Heat the oil in a heavy-based frying pan over medium heat. Cook the onion, garlic, ginger and cumin seeds, stirring often. Continue doing so for 4 minutes or until soft and aromatic.
2. Add the coriander stems and cook for 1 minute. Add curry powder and curry leaves. Continue stirring, for a further minute or until aromatic.
3. Add the chicken and cook, stirring, for 2 minutes or until browned slightly. Next stir in the tomatoes and water.
4. Reduce heat to medium-low. Next, add the potatoes and simmer for 30 minutes or until tender. Season with some salt.
5. Finally, scoop out a hollow in the bread rolls and spoon in the curry.