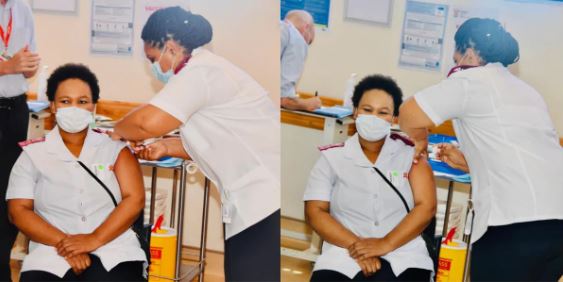 Cape Town nurse, Zoliswa Gigi-Dyosi has taken the Covid-19 vaccine making her the first South African.
Eartlier today, President Cyril Ramaphosa joins the first set of health care workers to receive the vaccine.
Cyril shared a photo of himself receiving the vaccine and a video of other persons receiving the vaccine has gone viral on social media.
Well, Zoliswa was part of a group of 16 healthcare workers in different roles who received the vaccine and will be kept under observation.
80 000 doses of the Johnson & Johnson Covid-19 vaccine arrived in South Africa and a further 500 000 are expected in the next four weeks.
She got the Johnson & Johnson Covid-19 vaccine which was administered at the Khayelitsha Hospital.
She is a registered nurse and midwife. She is used to giving injections and is familiar with the process, she said that she did feel a small amount of pain.
#WeChooseVaccination https://t.co/hOzeslWX7H

— Cyril Ramaphosa 🇿🇦 #StaySafe (@CyrilRamaphosa) February 17, 2021