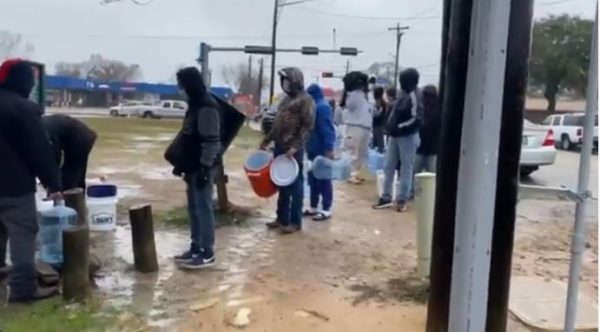 Texas residents have been caught on footage lining up to fetch water from a borehole.
This is coming after the state experienced blackout for days now resulting to them not able to pump water.
According to operators, the bulk of the power loss in Texas came from natural gas suppliers as pipelines froze, making it difficult for plants to get the fuel they needed.
Electricity is normally used to pump water into the homes of residents but since the outage, many have resorted to seeking alternative ways of accessing their daily needs.
In a video shared online by abc reporter, Erica Simon, citizens could be seen in a queue holding buckets and dispenser containers as they fetched water from a borehole tap.
In her words; "This is not a third world country. This is Houston, Texas. I spotted a line of people filing up buckets of water from a spicket at Haden Park. Why? Millions either have no water or are under a Boil Water Advisory."
Watch the video clip below:
This is not a third world country. This is Houston, Texas. I spotted a line of people filing up buckets of water from a spicket at Haden Park. Why? Millions either have no water or are under a Boil Water Advisory. pic.twitter.com/VHYH5Hbqjj

— Erica Simon (@EricaOnABC13) February 18, 2021