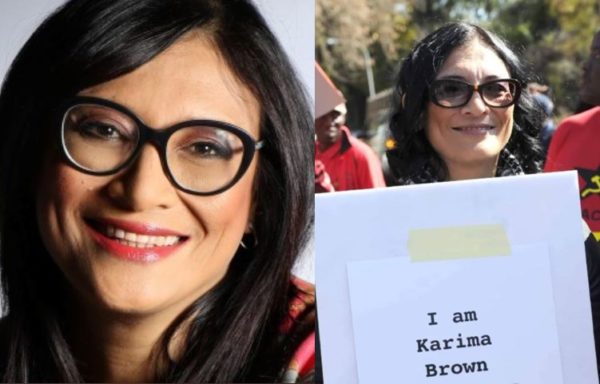 eNCA journalist, Karima Brown dies of complications from COVID-19 on Thursday morning.
The news of her death is a shock to the industry and to all South Africans in general.
According to eNCA, "Brown had been placed on a ventilator as her condition worsened, but ultimately, she succumbed to the illness earlier this morning. The news was broken via her employers, who published a brief statement on their Twitter account.:
My dear friend Karima Brown passed away this morning from covid-19. I am devastated. Broken.

Below is the official statement on behalf of her family. pic.twitter.com/RPMbPO2UAM

— Eusebius McKaiser (@Eusebius) March 4, 2021
[BREAKING NEWS] Journalist Karima Brown dies of COVID-19. Brown hosted 'The Fix' on eNCA. She was admitted to hospital with COVID-19. #DStv403 #eNCA pic.twitter.com/qE6Ut51o9y

— eNCA (@eNCA) March 4, 2021
Karima who was diagnosed with the virus a few weeks ago is one of the most recognisable names in South African journalism.
Lots of South Africans flood social media, paying tribute to the veteran.
Still battling to wrap my mind around the news that Karima Brown is no more. This shocked me to the core. Heartfelt condolences to the family, friends and colleagues. Thank you for your fearless commitment to necessary conversations #KarimaBrown #RIPKarimaBrown pic.twitter.com/M2RaUHeYz3

— Prof Thuli Madonsela (@ThuliMadonsela3) March 4, 2021
My deepest condolences to Karima Brown's family following the news of her passing. She was courageous, bold and incredibly fearless. May her soul rest in peace.

— Cathy Mohlahlana (@CathyMohlahlana) March 4, 2021
I'd like to send my condolences to Karima Brown's family..especially her son and brother Zain. To her many friends and colleagues, the journalism fraternity, I am sorry for your loss. I wish you fortitude & courage as you deal with this blow.

— Redi Tlhabi (@RediTlhabi) March 4, 2021
This is very sad news. Sending heartfelt condolences and strength to Karima Brown's family and friends. Her contributions to SA will be remembered #RIPKarimaBrown https://t.co/uA5EwwcQzZ

— Jesse Clegg (@Jesse_Clegg) March 4, 2021
So Sad to hear about Karima Brown. Days before she was admitted to hospital, we did a webinar on the illicit trade. Karima was always fair, balanced and professional. @TaxJustice_SA @BLSA_Official @BACSA_Official @CGCSA1 pic.twitter.com/YKGc9zqFCW

— Yusuf Abramjee (@Abramjee) March 4, 2021