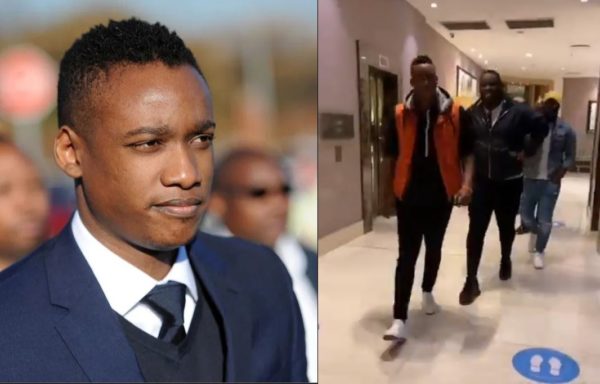 Duduzane Zuma attracts controversy after declaring his interest in 2024 presidential race.
A video of the young man speaking of how he can better the nation coming 2024 has gone viral on social media, and a higher percentage of users claim he is confused.
South Africans say the young politician has confused social media fame with presidential campaign. Some persons even went as far as telling him to ask EFF political leader, Julius Malema of his experience when it comes to Twitter fame and votes he received for his presidential race.
Duduzane must understand one thing..

Being loved by woman on the internet doesn't mean he stand a chance to rule this country..

Even Julius Malema always win elections here on Twitter… He's still number 3.. And it will remain like that until he gives up

— ChrisExcel (@ChrisExcel102) March 5, 2021
Duduzane Zuma is a son of Jacob Zuma,son of a looter is a looter.

— cabonena alfred (@alfred_cabonena) March 5, 2021
I really blame all the women who hyped this boy on Twitter and put wrong ideas in his head…. #Duduzane ##DuduzaneZuma pic.twitter.com/cSLqbISbkp

— @Naledi (@Naledi86764029) March 5, 2021
Duduzane Zuma confused modelling with a Presidential race. He got hyped on Social Media by the kind who would never be in a queue to vote and now he is apparently already introducing himself as the incoming President of SA.

He must ask the 'government-in-waiting' Brigade.

— African Renaissance🦅🇿🇦🦁 (@MadiBoity) March 5, 2021
Not another Zuma leading! Please wait 🧸 pic.twitter.com/Zlz8qM9n2F

— David Magare (@Pharmlife_Inc) March 5, 2021
Yall hyped Duduzane so much now he is dizzy😂

— AnzaNet (@Anzatshilidzi12) March 5, 2021
I'm confused. Is it the face or the walk that woman love in Duduzane ? https://t.co/DpnL5Ii49n pic.twitter.com/vvm3lxX6NH

— Muzi (@MuzMocker) March 5, 2021
Duduzane Zuma thinks twitter popularity equals to votes on the ballot paper. He must ask his fathers new BFF, Julius has 3.4 million followers on Twitter but Eff got 1.9 million votes. If twitter was a true reflection of voter support EFF would have won the elections.

— KB (@kabelo_87) March 5, 2021
Twitter defenders be like:
Go for it Duduzane!

The more voices & diverse offerings there are out there, the better for our democracy

If no constituency & incompetent Mthengisi can be supported, what more an energised young man with appeal in some quarters and a symbol of his father's legacy continuation?

— Monghadi Mazambi (@MonghadiMazambi) March 5, 2021
Well, I think Duduzane does have what it takes to run for presidency & bring some much needed change in SA. He's got all the power & the knowledge from his father. He learned from the best how politricks work. Let's just wait & see how it will unfold.

— Ngwane (@BabaKaKhanya) March 5, 2021
is Duduzane going to campaign under ANC or he is opening his own political party ?

— IG: Jayt_Mbango🇿🇦™ ❼ (@JayT_Mbango) March 5, 2021