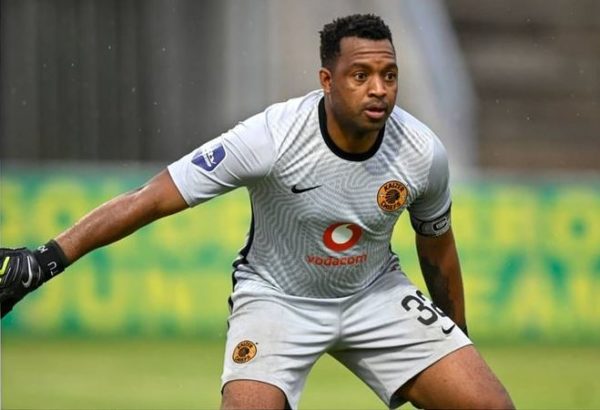 Itumeleng Khune was caught flexing in a party and it's attracted controversy.
The South African footballer plays as goalkeeper for Kaizer Chiefs, but his game has not been impressive to fans, as the football team keeps loosing.
Caught in a viral video seriously enjoying his life in a party, made some persons assume that he is becoming unfocused, and urged to hang his boots.
However, others persons defended the goalkeeper, especially after the video went viral.
What's wrong with this video? #Khune https://t.co/8N3aIMXPbY

— BROOKLYN (@Buang03) March 4, 2021
Your time is up bro we are tired with your mistake just leave us in peace #KHUNE

— Essential (@essen_zaa) March 4, 2021
Y'all set standards for celebs and forget that they're human too, and drag them for being the humans they are #KHUNE

— Tshepo (@Tshepiolas) March 4, 2021
There is nothing wrong with what khune did, we all do that at groove, he was enjoying himself kante you guys expect him to just go to groove sit there and relax, he is only human like the rest of us, and whoever posted /taken that video needs to grow up a bit #KHUNE pic.twitter.com/0S6xMWzLPE

— Kholofelo_Mokwele (@KholofeloFelo1) March 4, 2021
🙌🙌 #Khune needs to change a team.
.
It's like being in that relationship that you just can't leave but it's bad for you.

— FinancialEducation_Institution (@LaMarket_) March 4, 2021
There is something wrong with #KHUNE, it looks like he is saying f*** you to Kaizer Chiefs for their treatment on him. He can't be drinking and behaving like this.

— Khumbudzo Munyai (@Khumbu_M) March 4, 2021
Stop making fun of Itumeleng #KHUNE

Not This time and certainly not this hour…

— Hlubi Prince ℹ (@amradebe_boroja) March 4, 2021
Normalise slapping idiots who take videos and pictures 📷 of you in public without your consent #KHUNE #thursdaymorning #ThursdayThoughts pic.twitter.com/eco6qyspUP

— Revolutionary (@Common_man18) March 4, 2021
So some nigga went to groove, and instead of enjoying himself took a video of #KHUNE enjoying himself.

What a sad life.

— Trevor (@Trevy7) March 4, 2021