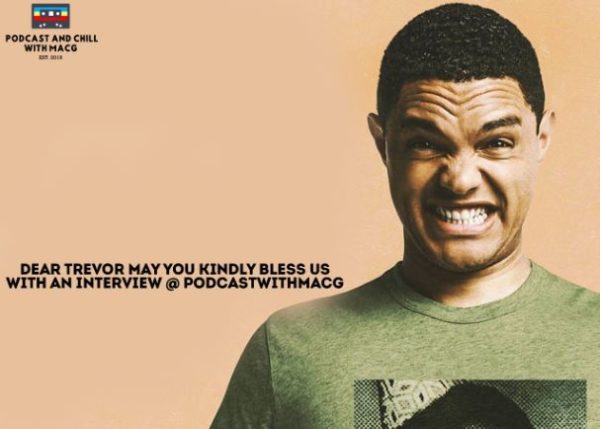 Trevor Noah has been called out by South Africans on social media in other to answer Mac G's call to grace Podcast and Chill.
The hashtag "Trevor Noah Answer Mac G" trends on social media, as lovers of the podcast king called the comedian.
Mac G has been trending within the past 3 months due to his podcast, and it's garnered more fans.
Chillers believe that if the international comedian graces the platform, then it will introduce the DJ to a higher level.
#TrevorNoahAnswerMacG just a reminder 421 million pic.twitter.com/vfkmfImflJ

— Sakhile Captain ©️ (@Captain_Sakhile) March 8, 2021
Pretty please 🙏🏽#TrevorNoahAnswerMacG pic.twitter.com/Bm0oIEzIJ0

— Nhlamulo (@dee_vuma) March 8, 2021
#TrevorNoahAnswerMacG chillers doing their thing❤️❤️❤️ pic.twitter.com/oWyPAooc7e

— I'm a chiller (@Lolo_MDB) March 8, 2021
Please 🙏🙏#TrevorNoahAnswerMacG pic.twitter.com/TNJDuUFOB7

— Warra (@MafaralalaT) March 8, 2021
Please Trevor #TrevorNoahAnswerMacG pic.twitter.com/WBEpErqEyk

— Lindelani (@Lindelani_Venda) March 8, 2021
It would be awesome if you come chill with us @Trevornoah #TrevorNoahAnswerMacG pic.twitter.com/ryPPuY5YD1

— Bien Connect (@BienConnect) March 8, 2021
Seeing this hashtag trend at number one truly warms my heart. It shows how the chillers family have grown and the love we all have for @MacGUnleashed and @Solphendukaa #TrevorNoahAnswerMacG

— Abongile (@AbongileNomand) March 8, 2021
#TrevorNoahAnswerMacG With Such Influence, I Don't Think They'd B Anyone Saying No To Chillers Interview. Otherwise Just Be Ready To Be Grilled 🚮😂 pic.twitter.com/RPa8oJLHTB

— #forthedjs 💨🏌 (@Youngsamdeej) March 8, 2021