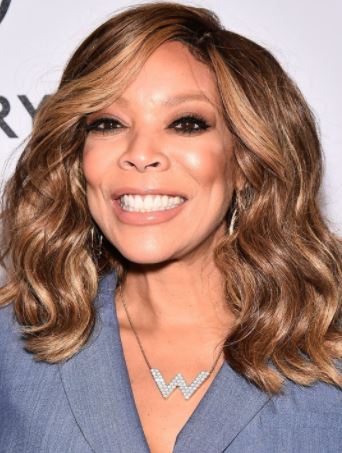 US TV presenter, Wendy Williams is currently trending on Twitter alongside Anele Mdoda after a short clip of her claiming April 10 is "Wendy Williams Day in SA".
This is coming after Anele shared a picture of her recent virtual interview with the star.
Taking to Twitter, Wendy declared this on her recent episode of her show.
Many have taken to their TL to ask questions as they wonder who gave Wendy the information.
In the video, Wendy could be heard telling her audience she had just found out April 10 is her day in the country.
"Do you know what April 10 is? I just found out myself. April 10 is Wendy Williams Day in South Africa. I am not lying," she said on the viral video clip.
Watch video below:
https://t.co/XBaZMjfUIF lol apparently it's Anele mdoda who told her this. 😂

— Aubrey (@Aubreychiibi) March 17, 2021
Well this video caused a lot of chaos which brought about Anele Mdoda coming into the picture.
But to make things clear, what Wendy really meant was that her biopic" Wendy Williams: Hot Topic and her documentary Wendy Williams: What a mess! would be broadcast in the country on April 10 on Lifetime ( DStv channel 131).
10th April. @LifetimeSA will screen #WendyWilliams movie and doccie !!! You know you will be watching 😁🥰 my interview with Wendy will play on my radio show the day before and you can hear there about Wendy Williams Day #AneleandtheClub

— Anele Mdoda (@Anele) March 17, 2021
Tweeps began to question Anele asking if she was the one who told Wendy the information.
Responding to it, Anele said: "Yes guys, it was me who told Wendy Williams that because it is. Lifetime SA tell them it is so #AneleandtheClub"
Thinking that was all, tweeps began to react sharing what they felt about the video:
Wendy Williams be giving a herself a holiday in our own country, that time Nelson Mandela's birthday is not even a holiday.😭 pic.twitter.com/MlXFizefJs

— Xolani Ngcobo (@XolaniNgcobo167) March 17, 2021
Which south africa declared 10 april wendy williams day ? pic.twitter.com/T29CeNXeb0

— chun swae. (@girl_kaybee) March 17, 2021
Wendy Williams was refering to her biopic on April 10th.😂😂 its not a public holiday pic.twitter.com/keAFNNvUdn

— K.E.L (@KelIsAGoddes) March 17, 2021
….wait….@WendyWilliams….April 10th is Wendy Williams Day is South Africa???…SUXOKA sana….which South Africa…who lied to you nana….hehhh???… pic.twitter.com/80edHnAH7N

— 👑Jade Jin Su👑 (@HerRoyalHotLass) March 17, 2021
Wait Apri 10 is Wendy Williams day in South Africa QLYVA pic.twitter.com/NwIfJorriy

— Skinny Chef SA👨‍🍳🇿🇦 🏳️‍🌈 (@anele_booi) March 17, 2021
Bathong motho ashu @WendyWilliams uit die blou van which South Africa? https://t.co/4b39HMFqt9 pic.twitter.com/yMj0C3mcKy

— Miss B (@SharlotteBotha) March 17, 2021
This is how black people lost the land. Bavuma yonke into kqala. 😂😩 pic.twitter.com/7r6nyC4fPW

— Madoda Shusha (@MadodaShusha) March 17, 2021
Knowing how dom that lot in Amerikha is, Wendy Williams could be referring to entire SADC region. Remember they think Africa is a country.

I mean Which South Africa is this?? pic.twitter.com/hGKfuhtQcp

— M.D.U (@MduDlamini_) March 17, 2021