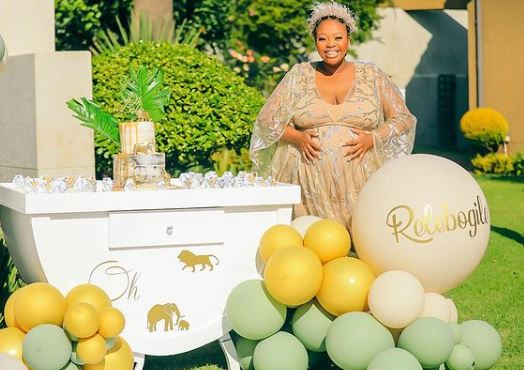 Relebogile Mabotja had her baby shower yesterday, 1st of May and it was a memorable one for her.
The star stylishly announced her pregnancy in April by gracing the cover of Batswadi Mag and she has been sharing the cute snaps of her baby bump ever since.
The first day of my final month! Appropriate way for my tribe to put together this amazing celebration for my baby's life and my baby shower! She wrote sharing cute snaps on Instagram.
Taking to Instagram, Relebogile shared a sneak peek inside her stunning baby shower.
She said she saw it fit for her to have her baby shower on the final month of her pregnancy.
Revealing her top 3 items on her baby shower registry list during her chat with Batswadi Mag a few weeks ago
She said: "top 3 items on my baby shower registry list are a house, a trust fund and school fees for my child, yah let's go big! why not?"
She said the dos and don'ts for her baby shower are: "It has to be fun. They don't is; don't make it not fun. I'd like to make it inclusive because so many people in my life have been excluded from my pregnancy. I'm also just going to let them run with it and not necessarily make it an Instagram thing…but more of connecting with the community and the tribe that's gonna be aunt and uncle to my baby."
Let's take a look at some pictures taken at the baby shower:
View this post on Instagram
View this post on Instagram