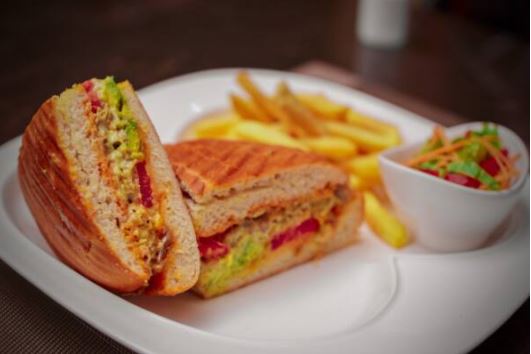 South African Tramezzini bread is very yummy and versatile. A tramezzini is basically a little triangular sandwich made using bread, with crusts removed.
The Tramezzini fillings could range from basic mayonnaise and veggies or assorted with beef, chicken, and other kinds of treats.
Since this dish is the Italian version of the sandwich, the Tramezzini recipe might vary from culture to culture.
Whether you are trying it out for the first time or you are in search of different recipes, follow the steps below to prepare yours.
Chicken Tramezzini 
Ingredients
Crustless bread
Diced cucumber
Basil pesto
Mayonnaise
Salt and pepper
Thyme
0.5kg of striped chicken fillets
Chopped onions
1 tablespoon of red chili
1 tablespoon of sweet сhili sauce
1 tablespoon of fresh garlic
Shredded lettuce
Chopped tomatoes
1 tablespoon tomato sauce
Preparation instructions
1. Heat a splash of olive oil in a saucepan.
2. Add the chopped onions and stir until succulent.
3. Pour in the striped chicken fillets and fry until suitably cooked.
4. Add the pepper.
5. Warm the bread for a few seconds.
6. Spread the mayonnaise on one side of the bread and the basil pesto on the other side.
7. Top suitably with the fried chicken fillets.
8. Add a topping of cheese.
9. Slice the bread plus the toppings into halves.
10. The chicken Tramezzini is ready to be enjoyed.
Naeema Mia Barbecue beef Tramezzini
Ingredients for 4 servings
0.5kg of cubed steak
1.5 tablespoon of sweet barbeque marinade
Squeezed lemon
0.5 tablespoon barbecue sauce
Pita bread
Mayonnaise
Chopped cucumber
Shredded lettuce
1 teaspoon each of ground chilli, garlic and mustard sauce
Cheese
2 tablespoons each of tomato sauce, vinegar and barbecue sauce
2 tablespoon of steak marinade
Cooking instruction
1. Let the steak be marinated with the sweet barbecue marinade along with garlic, chilli powder, and barbecue chilli.
2. Cook the marinated steak. Then, add the barbecue sauce, mustard sauce, and tomato sauce.
3. Allow cooking over moderate heat for nothing less than five minutes. But then, do not allow the cooking to dry out all the juice.
4. Then, cut the bread into halves and add mayonnaise on one side of the pita bread.
5. Top it with the lettuce, cucumber, cheese and steaks, and cover with the other half of the bread.
6. Spread butter on the outside of both sides and toast both sides by grilling in a pan.
7. Make sure the cheese melts, and after everything is done, it is ready to be served.
Hazelnut and Tofu Tramezzini
Ingredients
Spicy Tofu
Extra virgin oil
Sea salt
Pepper
Toasted hazelnut
Slices of vegan bread
Cooking instructions
1. Slice the tofu into small bits and then blend.
2. Add the olive oil, toasted hazelnut, sea salt and pepper; then continue blending.
3. Pour the content of the blender into a clean bowl.
4. Spread the creamy blend on the slices of bread.
5. Slice diagonally and enjoy with any chilled drinks of your choice.