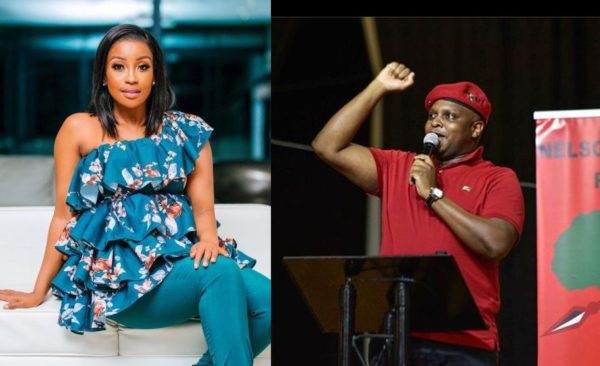 Award-winning chef, Lorna Maseko and EFF's Floyd Shivambu have reportedly welcomed the birth of their first child.
According to City Press the two are now parents, but they are yet to publicly confirm the news.
The chef made headlines last year after it was rumored that she's pregnant, her baby bump was also spotted, but she refuted making people thing she just had a bloated stomach.
While people are shocked about their baby news, they still couldn't let go of talks about Lorna's choice of man. Knowing the Flyod was married and blessed with a daughter.
Some persons are shocked because Lorna had formerly denied being in a romantic relationship with the EFF member.
Lorna Maseko last year "Let me nip this in the butt real quick! I'm NOT pregnant it's truly disgusting that people can go on to create stories that are unreal it's actually EVIL!! Women suffer with many issues,fibroids(which I have),endometriosis & many others."

— Nala (@Nala_Denga) May 30, 2021
I find lorna and Floyd's relationship so interesting. What a fascinating duo ! I really would love to see them having a dialogue.

— MaKheswa 🤎 (@VeemoneyK) May 30, 2021
I didn't even know Floyd Shivambu and Lorna Maseko were together. Life neh!

— rešoketšwe waa'manenzhe 🇵🇸 (@avatar_reso) May 30, 2021
Wait balance me quickly didn't Floyd have a wife and kid that he left for
Lorna or something? Isn't Lorna afraid of karma pic.twitter.com/BUka8coG6M

— 2021 AFRICA (@2021AFRICA) May 30, 2021
I want to be like Lorna when i grow up, deny! deny! and deny!. Private life is wealth https://t.co/NrLGcG40Rq

— 𝒩ℳ (@I_am_HER____) May 30, 2021