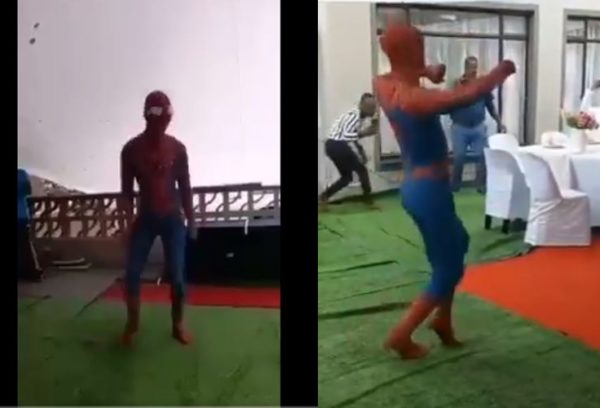 South Africans return to alert level 2 as announced by President Cyril Ramaphosa on Sunday evening; interestingly the dancing Spiderman trends after.
Observing why he trended through Sunday night with tons of tweets, it was realized that some persons blame him alongside Uncle Vinny for the nation's return to lockdown with stricter rules.
Remember how Uncle Vinny filled the streets of Braam for his 19th birthday party.
Now, since the dancing Spiderman went viral, he's been sighted at more gigs of recent, and he's got himself a female partner.
Lots of persons believe he's one of the 3rd wave trigger.
Well, could we say the people are being sarcastic?
I blame spiderman for this level 2 #FamilyMeeting pic.twitter.com/7dEd72LdMX

— Pabi 🌹 (@Paballo_Thabete) May 30, 2021
#FamilyMeeting
I blame uncle Vinny and Spiderman 🙆‍♂️🙆‍♂️🙆‍♂️ pic.twitter.com/CPSrusVvOe

— Manase Chauke 🏳️‍🌈🏳️‍🌈🌈🌈 (@MhlengweManase) May 30, 2021
I blame Spiderman and baba for #Level2 pic.twitter.com/aSsTYqvnJd

— Earl P (@jameslepota) May 30, 2021
Spiderman is the reason President Cyril Ramaphosa is taking us to Level2. 😭😭#FamilyMeeting pic.twitter.com/OWutGMfmeq

— Mjolo-The-Pandemic🚫 (@thirsty_sphe) May 30, 2021
#FamilyMeeting
I blame Spiderman for moving back to adjusted level 2.😭😭😭 pic.twitter.com/nuu8UQ7ibG

— lerato_plaatjie (@plaatjie_lerato) May 30, 2021
I blame Spiderman.#FamilyMeeting pic.twitter.com/HoVio39Qo7

— Maxed_Out (@Max_SMMO) May 30, 2021
Spiderman ruined things for us😭😭

— | Harold | (@_IamHarold) May 30, 2021
I blame spiderman and uncle vinny.

Nale zekethe yenu#FamilyMeeting pic.twitter.com/byKtuIxUEG

— ABOGOGO (@Donald46681127) May 30, 2021