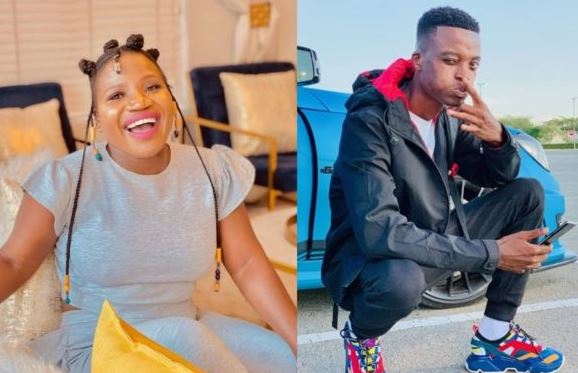 King Monada is currently trending on Twitter after Makhadzi released 'Ghanama' without his verse.
Few days ago, the two were at war over ownership of the song after they teased the song before its release.
The two attacked each other, as Makhadzi claimed she owns the song, while Monada disagrees, saying he actually owns it.
They worked on it alongside Prince Benza.
Well, the song has been released today and many are disappointed as King Monada was not featured on the song.
See reactions from fans:
Makhadzi just commited a career suicide by removing King Monada's verse on Ganama pic.twitter.com/O7ZkJ57Vxl

— #MaPress (@Percy5ive) July 8, 2021
People who advised Makhadzi to remove King Monada on that #Ganama song made a very big mistake, the song has lost it's originality that people fell in love with pic.twitter.com/UFKERFzcqS

— Simtho Biyela 🌍 (@SimthoBiyela) July 8, 2021
this song sounnds dull without king monada maan….. its like a boring remix pic.twitter.com/v09laDi9o7

— Morei🤗 the perfume guy (@Tix_morel) July 8, 2021
I love you Makhadzi but this isn't the ganama we ordered. Please can you reconcile with King Monada and add his vocals on this song ❤️ https://t.co/ffbhEcVQbm

— unklē fana 🙂 (@Troniiq_Sithole) July 8, 2021
If King Monada has million number of fans I'm one of them. If king Monada has ten fans I'm one of them. If King Monada has no fans, that means I'm no more on the earth. If world against the king Monada, I'm against the world. I love king Monada till my last breath 👑❤

— Mmagobatho (@Mmagobathox) July 8, 2021
MakhadziSA want all glory for herself so she felt the pressure of KingMonada and decided to remove him …Now Ganama song is nothing without KingMonada 😪Aii wrong move Booker T pic.twitter.com/KIcsZAiZsE

— MZulu wa Limpopo (@KabeloMohlah02) July 8, 2021