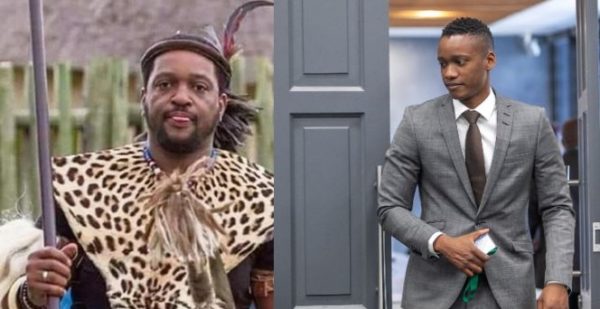 King Miszulu and Duduzane Zuma are currently trending on Twitter after King addressed the nation following the looting and destruction of property.
However, the King spoke in Zulu language and according to the people, he was obviously not saying most of his words correctly.
Many took to social media to mock him as some started to compare him with Duduzane Zuma who they claim can not speak Zulu efficiently.
Tweeps also went ahead to advice the two to consider getting a zulu language tutor.
Check some of the reactions from tweeps:
I wish to applaud Prince Mangosuthu Buthelezi for hand holding King Misuzulu kaZwelithini. He is new in the role. We all start somewhere.

— Given Mkhari (@MkhariGiven) July 14, 2021
The wisdom and loving guidance shown to King MisuZulu by Prince Mangosuthu Buthelezi is golden. May uMntwana ka Phindangene never be forgotten for his invaluable contribution to the Zulu nation despite his past mistakes.❤ pic.twitter.com/hG3rfn2tLQ

— 🍑🌻Lisa Mncube🌻🍑 (@Lisa_dust10) July 14, 2021
It's easy to compare King MisuZulu to his father because we were not around during King Zwelithini's first few years on the throne. I'm quite certain that he too made many mistakes. Also, he has just lost both his parents and is facing a lot of animosity. Give him a break!

— Mashiy'amahle🦋 (@2le_Fuze) July 14, 2021
Be easy on King MisuZulu kaZwelithini, this is his first public address and he appears to be struggling reading his statement. He will inspire confidence as time goes.

— Thabo Makwakwa (@ThaboMakwakwa) July 14, 2021
Surreal, King MisuZulu kaZwelithini's address to the Zulu nation has been delayed because they couldn't find fuel for his vehicle according to the SABC.

— Quinton Mtyala (@mtyala) July 14, 2021
The new Zulu King Misuzulu and Duduzane Zuma when it comes to speaking isiZulu.. Struggle!! 😅😂😂😂 pic.twitter.com/m9I4yG8LnK

— Nabi 🏳️‍🌈♏🛠 (@Kush_Kndy) July 14, 2021
It's now clear that King Misuzulu KaZwelithini is struggling to read in Zulu. I hope the royal office will work on that as it will be a struggle for him to relate with ordinary people of the Kingdom.

— Sihle Mavuso (@NewsBotZA) July 14, 2021