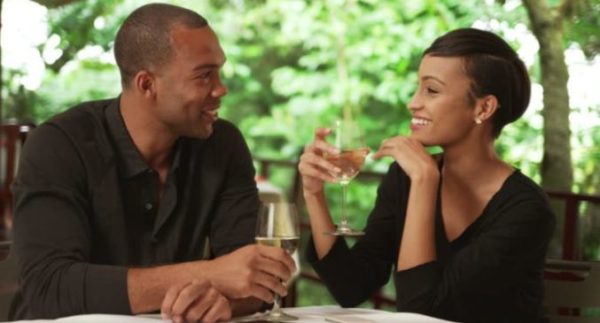 The date's a disaster. You were really looking forward to your time together but this person really isn't your cup of tea.
You want to get the hell out of there ASAP but you don't want it to be awkward or weird.
Don't worry – here's how to end a bad date as smoothly and painlessly as possible so you don't have to waste another second of your time.
1.

Hint that the end is near
If you can sense that the date's about to go south, you can start hinting in conversation that you're hoping to end it soon. You could say something like, "I can't have another drink. I have a really early start at work tomorrow" or mention in conversation that you didn't sleep very well the night before. Do this subtly, otherwise, it can come off as super rude.
2. Get

 a friend to call
It might sound cliched, but it's something that can't fail – get your friend to call you with some emergency. It doesn't have to be anything major like that she's in the hospital, but it will allow you to get out of there as quickly as possible. To be fair, your date will likely know it's all BS, but if they're a decent person, they won't want to call you on it and that should keep things from getting too awkward.
3.

Say you're getting a headache
Yeah, it's a lie and it's not cool to play on sickness, but if you're desperate to get out of the date but he can't catch a hint, then you might have to fake a headache and end things early. No hard feelings. You can just leave without having to say anything directly to the person about why you're not into it.
4.

 Or, just say you're tired
It's been a long day and you really should've gotten some sleep and not pushed yourself so hard at the gym earlier because now you're absolutely exhausted. Would they mind terribly if you had to cut this one short? No? Good. There you go. Now you can go home and enjoy a quiet night in or head to your friend's party so you turn the negative night around.
5.

Tel it to them straight
Is your date being rude or is he a sexist a-hole? You might wonder why you need to be polite, and you honestly don't. You can tell them that you don't appreciate their snarky comments or behavior and leave. You don't owe anyone anything. It's liberating, isn't it?
6.

Cut your connection
If you're having a video date, you obviously have a much easier way of putting an end to it. You could simply cut your internet connection and blame fuzzy technology. Your date won't have a clue that you're not feeling the connection with them.
7.

Be honest but kind
On the other hand, maybe you just don't feel that there's a connection between you but there's nothing wrong with them. They're a great catch – for someone else. So, you might tell them that you're not feeling things and are going to leave early. You don't have to be nasty about it, but it's good to be clear that there's not going to be a longer, or second, date. Yeah, this is ballsy, but it's also great to be honest so you both know where you stand and you can stop wasting each other's time.
8.

Plan a shorter date
If it's your first date, you might wanna go in with the goal of planning a shorter date to begin with. Not only is this great to build mystery and make them crave to see you again if things go well, but if your date's going to go badly then you already have an exit plan without having to do anything. Genius.