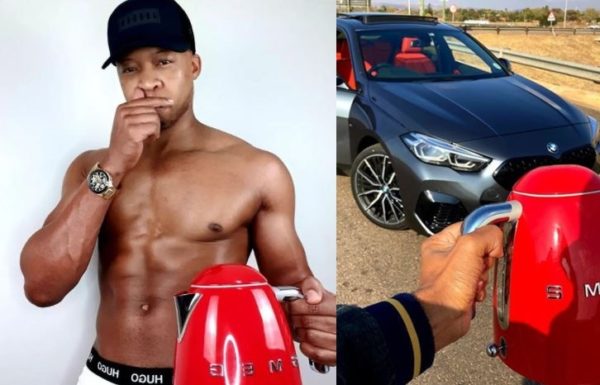 South African influencer, Michael Bucwa, famously known has Mr Smeg has acquired for himself a new whip.
Taking to social media, the star shared photos of the new BMW car.
In photos, he used the car key and his infamous red Smeg kettle to block the plate number of the car.
Lots of fans took to social media to congratulate him, while a few questioned his source of income.
— Mr Smeg (@MichaelBucwa) August 10, 2021
I think it's high time you start sharing how to become a successful person in life so we can also have abilities to chow every girl on our TL. pic.twitter.com/OD40D7dWWU

— Younger Jobela (@jobela_yanga) August 10, 2021
I hope my girlfriend doesn't see this 😂😂😂😂😂 pic.twitter.com/rzGnvBs8AS

— SeanD (@sean105101) August 13, 2021