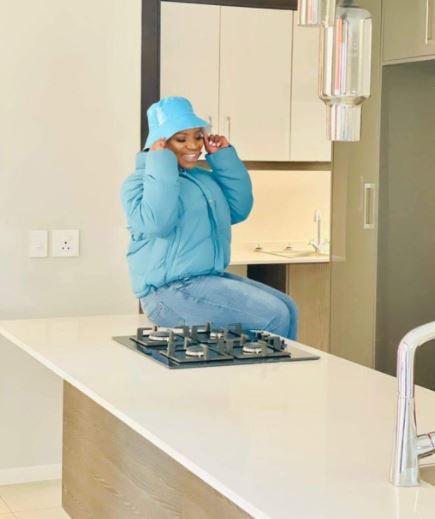 Makhadzi is the latest landlord in town as she officially become a homeowner.
The star can not be more proud with her achievement at the age of 25.
She made the news known through her Twitter stating even though her mother and father had separated, she did not want to chose who she should build a house for.
Instead she built them both their very own houses.
Now, she is celebrating again as she bought her own house.
Makhadzi revealed that she has managed to build 4houses.
"The first time I entered to my house I took this picture. My dream came true and I am proud of my self. I built my grandmother a house House with garden just because my mom and father separated I decided to not choose but  to built them two different houses. Now I bought MY OWN HOUSE!" she exclaimed.
Makhadzi wrote that it has always been her dream for her mother and grandmother to live a better life.
"Hey listen! I am 25 years and I managed to built 4 houses. Congratulations to my self NDITOFPFI MUFUKADZI WA VHUTALI," wrote Makhadzi.
"My dream was to see my parents and my grandmother living a better life, I didn't care about wearing expensive clothes but to make sure that all my family have a place to sleep and hide hunger and god chose me to make a different. When you pray and work hard everything is possible," she added.
Many of her fans have taken to their social media to celebrate with her.
See tweet below:
Hey listen! I am 25 years and I managed to built 4 houses 🏠 congratulations to my self NDITOFPFI MUFUKADZI WA VHUTALI ❤️🥳

— Makhadzi (@MakhadziSA) August 19, 2021