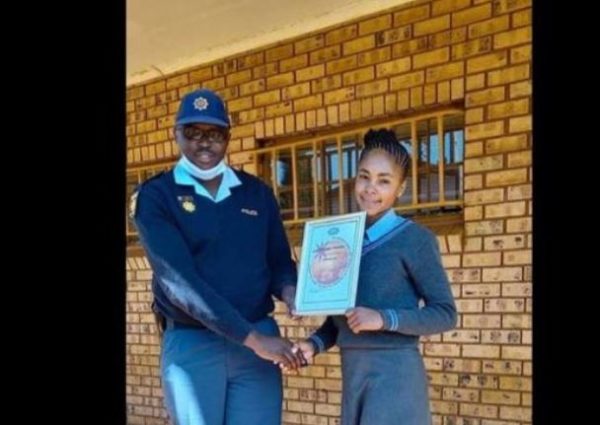 Grade 8 student from Seanamarena high-school in Soweto received a Good Citizen award after she reportedly returned a bag with approximately R40 Million to the police.
The young girl who found the money was said to have not taken a dime from the money, as she wants to be focused on her studies without being distracted by the money.
The news of the student's act has gone viral on social media, and reactions garnered explicitly states that she ought to have bettered her life with the money rather than being honest.
Check out how Mzansi Twitter reacted to the report below:
I'm so bored by this child who took R40mil to the policeman.

Yazi wearing school uniform is a scam!! When she hits 25yo life will life her she will regret the day she gave away a whole R40mil.

Doesn't she have parents 😤😤😤

— Khotsofalang🌐 🌍 (@RK_Mayekisa) November 30, 2021
When the R40mil girl gets home

Father: Since you want to focus on school I suggest you go stay there pic.twitter.com/nMmnfmNoZC

— MANDLA-M 🇿🇦 (@MandlaMhlanga_) November 30, 2021
I don't know how mad I'd be if my daughter picked up R40mil and took it to Sergent Mkhize at Diepkloof police station. Yeses I'd be livid

— Linda #WOD (@The_DonHimself) November 30, 2021
Imagine dropping R40mil for an award that doesn't even cost R100 😭
Hayi ke 🚮🚮🚮🚮🚮

Could never be me 😂 https://t.co/xtjsE2QSbl

— Tay (@TayTaytttee) November 30, 2021
I hope I never raise kids that would return R40mil😭😭 Do you know what R40mil is? Moer!😭 https://t.co/JoOjfarsZU

— uNtokozo (@yahhhhclever) November 30, 2021
Iyooo if i was her, I'd be in Dubai by now, asking my PA to Book Beyonce for lunch🙆yoh korr ke reke Mercedes latest le Lamborghini ,then apply for a reality TV show, name it "R40mil lifestyle". Yoh modimo! Korr akiyitsi. Waitsi batho ba rata hardwork🙆 pic.twitter.com/xWZBoAsUKx

— Tyron_bird_ (@Tyron_bird_) November 30, 2021