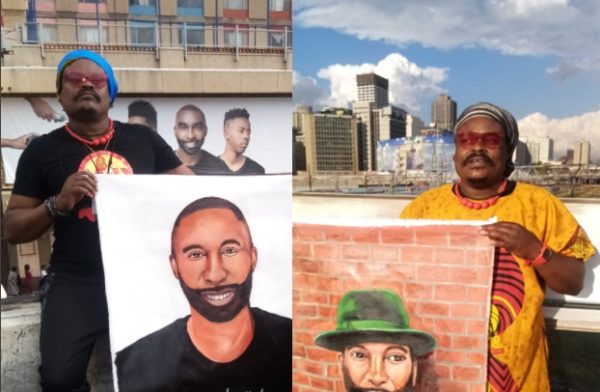 Rasta lands in trouble again with paintings of late rapper Riky Rick.
The celebrity painter shared three paintings of the rap icon and it's garnered attention as expected due to its inaccuracy.
It's believed that the artist is intentional with the slight paintings of the late celebs, and social media users who are still grieving the death of Riky have frowned at these paintings, saying enough with the laughs.
"Legends never die we multiply. Rest Brada you made us proud. A Fashion Guru, a Producer, a Musician and a Motivational Speaker, stay shining," Rasta captioned photos.
Legends never die we multiply. Rest Brada you made us proud👊🏾. A Fashion Guru, a Producer, a Musician and a Motivational Speaker, stay shining👋🏾.#RIPRikyRick, #RIPRickyRick, #AfricanBank, #legendsbarbershop,#CottonFest2022,#BigZuluNkabiRecords pic.twitter.com/eRLdlzHDgC

— Rasta The Artist (@RastaArtist) March 1, 2022
Reacting to the paintings, a tweep said, "The sad part is Rasta is not serious when drawing abantu abamnyama and we take it as a joke, its no longer funny."
The sad part is Rasta is not serious when drawing abantu abamnyama and we take it as a joke, its no longer funny.💔

— Rumani® (@RealMrumaDrive) March 1, 2022
At Some Point Rasta has to Be Cancelled 😡 pic.twitter.com/UoYVr2pOVI

— Dr MuVenda (@Ndi_Muvenda_) March 2, 2022