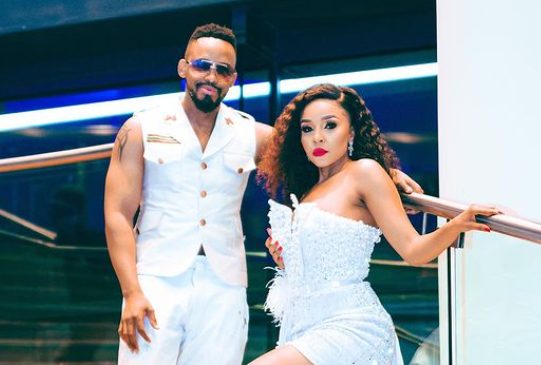 Donald and Cici have consistently dismissed rumors of being in a romantic relationship despite triggering these rumors.
Two years ago Cici welcomed her baby and also announced being married, but she's adamant on keeping the identity of her husband.
The singers have made people think they are a couple countless times.
Cici can't claim to be married to another man, yet get all mushy and loved up with Donald? They are musicians not actors!
Donald has falsified claims of being married to the singer, and this provokes the question, "What do they gain from lying?"
At this point, their relationship might be vague to many, but we're here to prove to you that Donald might be Cici's husband despite her old promise of not dating in the industry again due to the clash with ex-lover, Arthur Mafokate.
1. Let's throw it back to 2019, when the I'm In Love hitmaker wooed Busisiwe on social media. They both agreed to date.
I'm just gonna leave this here, to use as evidence 😅 @cici_worldwide pic.twitter.com/Z7KjqwzL8v

— #DonaldDreams (@DonaldInDenial) December 2, 2019
2.  After accepting to date each other, in 2020 Cici announced her pregnancy and many were curious about the father of the child. Interestingly. Donald surfaced on Twitter around that time to speak highly of Cici in a very romantic way.
"What did I do to deserve you in my life," Don tweeted to Ci.
I'm the lucky one https://t.co/x25tNGh5g6 pic.twitter.com/VxgxQtwI52

— #HambaNaye (@cici_worldwide) March 11, 2020
3. In 2021, the two dropped a song titled, Uzobuya and they progressed to creating a photo that will serve as cover for the song. During the photo-shoot, the two got loved-up and the video was highly sensational.
This is what went down at the #Uzobuya photoshoot, Mara Jolang 😅 pic.twitter.com/TQOm0GmRND

— #DonaldDreams (@DonaldInDenial) February 12, 2021
4.  Donald proved to be Cici's husband the fourth time during her birthday in 2022. He celebrated her with some of the most romantic words that exist.
"Happy birthday Ci, you're such an important factor in my life and I want you to know that I appreciate you & I pray for you. I wish God blesses you with everything you want in this lifetime. Today is your day, please enjoy it to the fullest. Love you," he wrote. This note got people concluding that they are indeed married.
View this post on Instagram
5.  It's 2022 and the two haven't stopped hinting at being married. Over the weekend, celebrities graced an event organised by Mercedes Benz SA, moments were captured in photos and videos. However, it's weird to see Donald share just photos with Ci and also a video where they gave each other warm hugs. Donald could have shared photos of himself with other celebs who were at the show, why Cici again?
@DonaldInDenial brought the heat…. pic.twitter.com/rTxYnKbW6s

— Zamani Ndimande 💭 (@ZamaniNd) March 12, 2022
Dope event at Mercedes Benz Sandton on Friday pic.twitter.com/TsbozxaG1I

— #DonaldDreams (@DonaldInDenial) March 13, 2022
We believe the above are proofs enough, but if the two still think they are not married, then they should serve evidence that will clear the mix up, as many are beyond certain that they are in a romantic relationship, and Donald is the husband.