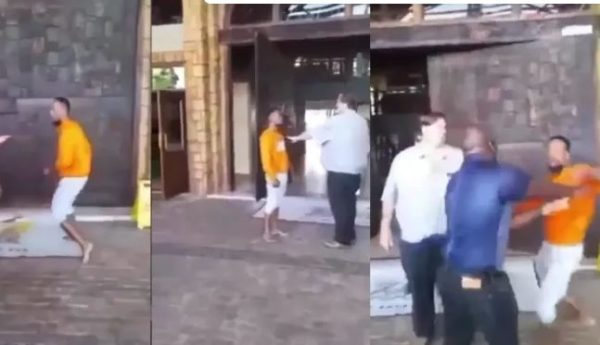 SK Khoza has mzansi worried after a video of him causing a commotion in the front of an unknown building went viral on social media.
The alleged drunk actor pitched a tantrum without footwear, in front of what looked like a hotel.
People assumed that he was trying to fight the white man seen in the video, but a security man intervened.
Despite the intervention, Khoza refused to be calm, as he shouted and caused a huge scene which has attracted different reactions from netizens.
Most people claim he needs help as he might be going through mental issues.
"I fear Sk Khoza is going through something and may need support. Remember back when a video was leaked of him allegedly in an ørgy seeming party? Then he recently got sacked, is going through a heartbreak and now this? Somebody close to him really needs to check on him," a tweep wrote.
I've never seen SK Khoza trending for good reasons, it's always things that might have a negative impact on his career 💔💔 pic.twitter.com/1Rzz5gm24U

— Simtho Biyela 💧 (@SimthoBiyela) April 4, 2022
Most guys do what SK Khoza is doing when they are stressed, his behavior is known. I hope he deals whatever is troubling him. I know he just broken up with his ex-fiancée, lost his job on The Queen. I hope you will be okay SK. We love you.

— SIMMY FREDDIE (@SimmyFreddie) April 4, 2022
There's nothing that's happening to Sk Khoza besides drugs. Ntsiki has been telling us that our faves in the industry are using strong drugs. Sadly, he is the only one one who can save himself at this point. He has always been problematic, this behaviour of his is nothing new.

— IKUMKANIKAZI (@Aya34164620) April 4, 2022
NOBODY cancelled this man. Shaka "SK Khoza" used to have scandal after scandal. Are you forgetting multiple abuse allegations(lets leave the cheating out of this one). He kept being accused of a bunch of bad things. The Fergies didn't just wake up one day and decide to fire him! https://t.co/djj3v0KgWE

— Molly (@Boikgabiso) April 4, 2022