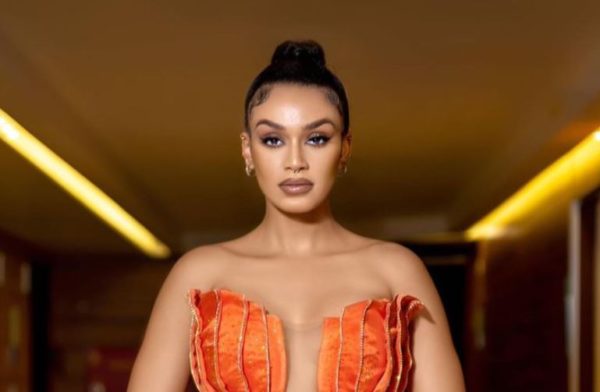 Pearl Thusi found herself trending after her comment on Pabi Cooper's post asking for bookings.
Her comment brought mixed reactions from so many as they called her out for commenting with laughing emojis on the rising star's post instead of showing her love
On Saturday evening, Pabi took to her Instagram to promote her business by asking promotors to book her for events, "book us abeg," she wrote to her 1,3 million Instagram followers.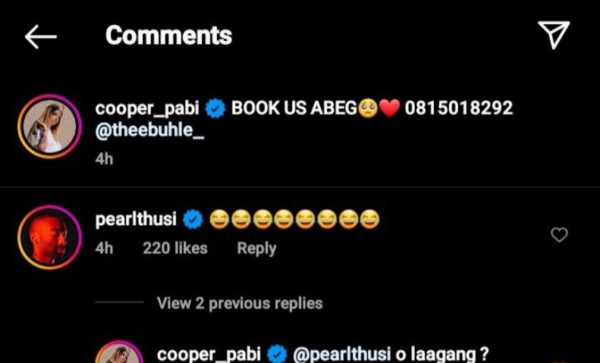 Pearl on the other hand took to her social media to clear the air.
"Hey guys, so I know it's late there in South Africa. I'm going live because I haven't been on Instagram nearly the entire day and everyone thinks I'm dogging Pabi Cooper. I'm so sad about that – why must everything I do get taken so f..k..d up. You guys always think I'm being a.. hole," she expressed.
The actress says her comment was taken the wrong way and she did reach out to Pabi Cooper to apologize.
"Anyway, I've just come here to be like I've texted Pabi to be like OMG this confusion is so sad in my opinion.
"I thought she was booked in Nigeria. She's killing it right now and when she wrote it in the Nigerian accent like one of the most booked artists making a joke about please book her and I just thought she was kidding. I thought she was just flexing on us," explains Pearl.
She adds that she is hurt by the whole misunderstanding.
"So I'm really sad and hurt about this whole thing. When did I start getting DMs of people telling me that I'm so toxic I was like what's going on? I have done nothing today.
"Regardless of whether my explanation makes any sense to you or not, I'm sorry and I've sent her an apology," said Pearl.
Watch the video below:
Pearl Thusi explains her comment on Pabi Cooper's IG post and says she has also sent an apology to her. pic.twitter.com/D1uqIgfEMo

— Musa Khawula (@MusaKhawula) April 10, 2022