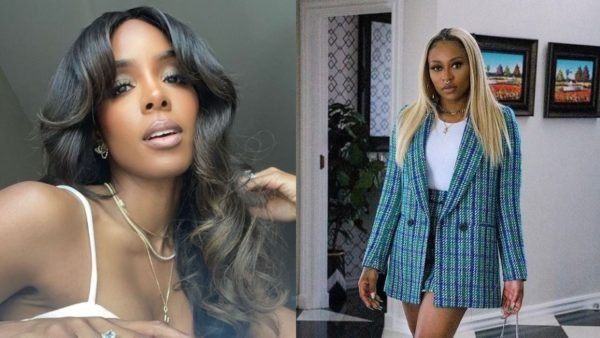 DJ Zinhle shoots her shot at American star, Kelly Rowland in the early hours of Thursday.
The DJ tweeted about how she desires to gift Kelly her EraByDJZinhle's pieces of jewelry, as the singer announced that she's in South Africa.
Hey Boo!! I didn't know that!!
Surprise….Surprise….cause,
I'm here in S.A. Now!!
Wait! Let me post a pic! https://t.co/qi4MPQWU17

— KELENDRIA ROWLAND (@KELLYROWLAND) April 13, 2022
Since Zinhle made her wish known to tweeps, they've taken it up as a task to help her get the jewelry to the international star.
"Sitting here thinking about how I can get my jewelry to Kelly Rowland yaz.." Mama Kairo tweeted.
Dear @KELLYROWLAND this is DJ Zinhle The Best Female DJ In Africa. https://t.co/gUJ2P2zuna

— King (@kingSnezzo) April 14, 2022
Hahahah, I love this 😉 https://t.co/WQsmiAm1KR

— #Siyabonga #ERAbyDJZinhle #ZeeNation (@DJZinhle) April 14, 2022
Returning to Twitter the South African star saw she was trending, and she further noticed that fans helped in tagging Kelly Rowland in their tweet, hence the DJ got emotional at their sweet gestures.
"Not you guys helping me to get to Kelly. Aww… thank you. Hopefully the package will get to her," she wrote.