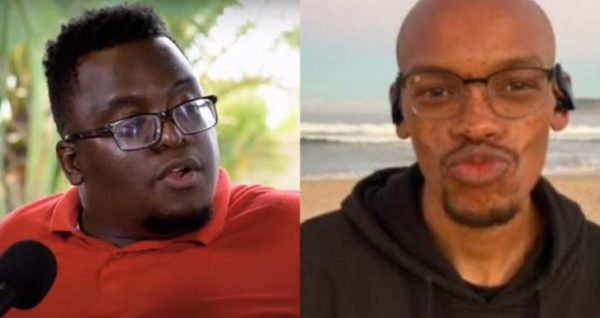 Sol Phenduka is the talk of the town after he and Dineo Ranaka bagged a new deal with Kaya 959.
Dineo on the other hand bid farewell to Metro FM after four years of being active on air.
Sol on the other hand got mixed reactions from people who are calling him a sellout for choosing radio, given MacG's beef with mainstream media.
Nota who is known to not always hide his feelings came at Sol Phenduka for apparently accepting a radio gig, when he and MacG carried the podcast game which continues to give radio a run for their monies.
Taking to Twitter, Nota called Sol out for apparently "selling out" MacG and choosing to go mainstream.
"Always knew Sol Phendukaa was a sell out… I warned MacG that he'll entertain radio offers & soon he'll choose between us chillers that saved his broadcasting  career & the corporations that want to kill the podcast platform. Stupid choice."
He even accused Sol of trying to sabotage the podcast by making them lose one of their sponsors, Old Mutual.
"Let's not forget that it was Sol who caused Old Mutual to throw the Podcast under the bus. The man cost the podcast millions in advertising, but MacG was too loyal to Sol to see that the man was just using Podcast & Chill to get himself back on radio. Well done you fooled us all!" he exclaimed.
"He might as well. He's captured by DSTV & Kaya FM… The man is a foolish for choosing a salary over owning his time but he failed to run the merchandise business so it was always doomed from the start. You can't build a business with a loser. He just signed a deal with the devil!
See tweet below:
Always knew @Solphendukaa was a sell out… I warned MacG that he'll entertain radio offers & soon he'll
choose between us chillers that saved his broadcasting career & the corporations that want to kill the podcast platform. Stupid choice but congrats to @dineoranaka!🔥👊🏽#SolDOut

— GOOD Authority (@lavidaNOTA) June 15, 2022
Congratulations Sol is trending because the enemies of the Podcast are doing a victory dance. They thought Sol is the soul of the podcast but what they don't know is that chillers will move on without him. Only this time he must make sure that Kaya pay him well because he's done!

— GOOD Authority (@lavidaNOTA) June 15, 2022
They'll call you family & then stab you in the back for minimum payment… We can't build solid black businesses because dudes don't know how to play their roles. You can't have your cake & eat it Sol. MacG might as well fire him now to save himself & all the chillers the trouble.

— GOOD Authority (@lavidaNOTA) June 15, 2022
I knew that Congratulations Sol was a paid promo… That's how bad it is as a sell out you need to pay people to congratulate you on Twitter. Never seen anything more pathetic. Why would you stab MacG in the back like that? It's not the first time & you were warned the last time!

— GOOD Authority (@lavidaNOTA) June 15, 2022