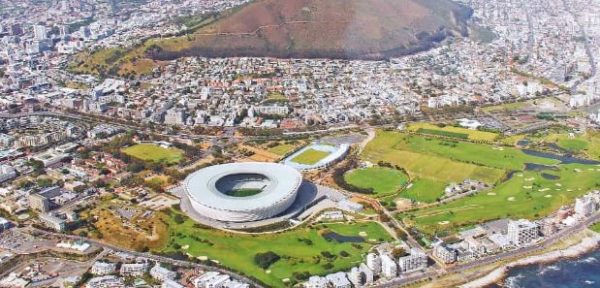 Visiting cities in South Africa generally doesn't feature so highly on people's itineraries.
However, there is an abundance of things to see and do and visitors can immerse themselves in South African culture and enjoy some fantastic restaurants, bars, and cultural hotspots.
South Africa is a vast country (twice the size of France!) and has dozens of cities. Interestingly, South Africa has 3 capital cities (Cape Town, Pretoria, and Bloemfontein).
We have compiled a list of the 5 best cities to visit in South Africa based on how interesting and exciting they are for visitors.
1. Cape Town
Cape Town is a vibrant, buzzing metropolis which has consistently topped lists of the best places to visit in South Africa ever since it was named the World Design Capital in 2014. the brightly-painted buildings of Bo-Kaap, the Afro-chic decor of the bars and restaurants, and the edgy street art give it a unique, exciting feel.
The city is crowned by the iconic Table Mountain which only represents one of many breathtaking natural landscapes which surround Cape Town. The beaches are out-of-this.world and are ideal for surfing. Even inside the city there are beautiful green spaces such as the Kirstenbosch National Botanical Garden, Green Point Urban Park, and the historic Company's Garden.
2. Johannesburg
Johannesburg, known as Jo'burg, has turned a corner after almost 20 years of decline. It is now a buzzing, creative city with a very bright future ahead. It is undoubtedly one of the must-see cities in South Africa. Art galleries, rooftop bars, independent cinemas, live music venues, and regeneration projects continue to pop up giving the city an exciting energy.
The hipster neighborhood of Maboneng is a popular hotspot and is considered one of Africa's most successful urban-regeneration projects. There are also some excellent museums which explore the country's rich but troubled history, including the Apartheid Museum.
3. Port Elizabeth
Port Elizabeth is known as the 'Friendly City' and it is one of the safest cities to visit in South Africa. Its historic town center, charming architecture, art galleries, and up-and-coming food scene give it a relaxing, upbeat atmosphere which many visitors fall in love with.
The city also offers some of South Africa's best and cleanest beaches as well as opportunities to enjoy surfing, sailing, kiteboarding and other water sports. The consistent sunny weather means visitors can see whales, dolphins, and a host of other marine creatures all year round. The nearby Addo Elephant National Park is also a huge hit with tourists.
4. Durban
South Africa's third-largest city is often overlooked in favour of Cape Town but there is plenty to see. It was voted the best South African city to live in and CNN described Durban as the 'the coolest city in South Africa you've never seen'. The 2010 World Cup soccer stadium and the revamped waterfront have helped to give the city's image a boost in recent years.
The laidback atmosphere, friendly neighbourhoods, food markets, and its strong Indian influence gives it a unique charm. The Golden Mile (the city's beach strip) is its most iconic asset and it offers visitors some truly stunning beaches. Tourists should also visit Victoria Street Market, famous for its range of spices, art, and jewellery.
5. Pretoria
Pretoria is known for its grand architecture, wide streets, monuments, and historical sites. Some of the highlights include the Botanical Gardens, the Union Buildings, and the Pretoria Art Gallery. There is also a host of fascinating museums such as the National Cultural History Museum and the Pioneer Museum.
The city has an intriguing story to tell which makes it one of the best cities to see in South Africa. It has been occupied by various different groups over the centuries, including the Sotho people in the 15th century and the Matabele in the 19th century.