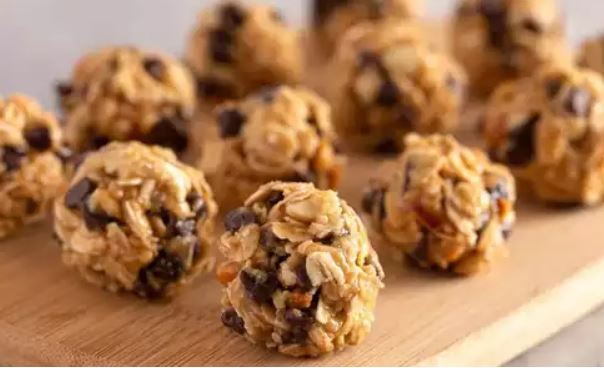 Oatmeal ball is a delicious no-bake snack/dessert recipe that you can whip up in no time.
If you have kids at home, then you need to try this easy recipe for sure. This healthy and tasty oatmeal ball recipe would be loved by kids and they won't stop asking for more.
Instead of refined sugar, we have used honey, which makes the snack so much healthier. You can add some nuts like almonds, cashews, walnuts etc., to make the balls tastier and crunchier.
This is a no-bake recipe and can be made by anyone, even those who don't like cooking. Just make the balls and put them in the fridge to help them hold shape.
If you want, you can add some candied fruits to the recipe as well. Do try this easy recipe, rate it and let us know how it turned out to be by leaving a comment in the section below.
Happy cooking!
Ingredients of oatmeal balls
Step 1 Mix the ingredients

Add rolled oats, flax seeds powder, peanut butter, honey, chocolate chips and vanilla extract to a bowl. Mix the ingredients well to form a thick mixture.

Step 2 Make balls using oats mixture

Now, make small balls from the dough and place them on a tray. Slide the tray in the fridge for about 30 minutes. This will help the balls hold shape.

Step 3 Ready to be served

Serve the no-bake Oatmeal Balls and enjoy.