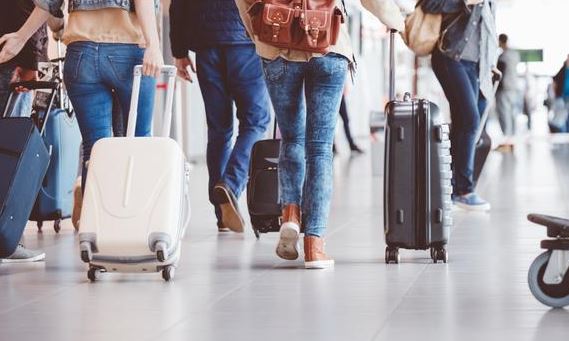 Just the thought of exploring a distant and new land makes an avid traveller happy and airports are undoubtedly one of the most favourite places for such people.
When it comes to airports, our world is dotted with some incredibly pretty airports, surrounded with mountains or bounded by sea!
Let's have a look at 10 such beautiful airports from across the globe; places so gorgeous that you wouldn't want to leave ever!
1. Singapore Changi Airport (SIN), Singapore
Ruling the charts for a long time is Singapore's Changi Airport. The airport is so stunning, well-maintained and clean that it deserves all the accolades. Jewel Changi Airport here offers nature-themed entertainment, where passengers can spend time admiring the world's one of the highest indoor waterfalls, butterfly garden, watching a movie at the theatre or just relishing a range of wide cuisine. The whole place in itself is a tourist hotspot!
2. Zurich Airport (ZRH), Switzerland
The world is very well aware of the beauty of Switzerland, so we can only imagine how pretty the airports here must be! Zurich Airport here is one of the busiest and the best international airports in the world. The gorgeous airport is brimming with a plenitude of global restaurants, bars and retail stores. The duty-free shopping is an experience.
3. Seattle-Tacoma International Airport (SEA), Seattle, Washington
This place is another level of manmade beauty! The architecture of the airport looks classic and aesthetic with an all-glass curtain wall. There's also a glue-laminated timber truss system which is made using locally sourced Douglas firs. It helps reduce the carbon dioxide emissions in the airport building.
4. Pulkovo International Airport (LED), St. Petersburg, Russia
Another beautiful airport that deserves a mention is Pulkovo International Airport in St. Petersburg. From its natural setting to gold interiors and gilded domes exteriors, everything about this airport is simply outstanding.
5. Munich International Airport (MUC), Germany
More than an airport, it is known as a city centre. Munich Airport is the best example of an airport, where class meets comfort. There are over 150 retail stores here. The Mountain Hub Spa here is a perfect relaxation hub for long haul travellers.
6. Heydar Aliyev International Airport (GYD), Baku, Azerbaijan
Heydar Aliyev International Airport makes for a perfect eye candy! The architect's love for geometry-patterns is quite evident in the airport building. The airport features hexagonal skylights, diamond-shaped shingles and rhombus patterned floor, which look unique and stunning at the same time.
7. Hamad International Airport (DOH), Qatar
This comes as no surprise that this stunning airport has clinched one of the top spots. Hamad International Airport in Doha, Qatar, is also regarded as the best airport in the world given its unique architecture and world-class amenities. The international airport is noted for its posh boutiques, cleanliness and restaurants. There's also a kids entertainment zone.
8. Dubai International Airport (DXB
It's no secret that Dubai International Airport is one of the biggest and the best airports in the world. From duty-free shopping centres and world-class restaurants and entertainment zones, the airport has a different fan following all together. If you have ample time, you can relax at the on-site spa and swimming pool.
9. Denver International Airport (DEN), Denver, Colorado
You need to visit the airport to believe your eyes! The exteriors of the airport possess Teflon-coated fibreglass peaks which look otherworldly! The Colorado Rockies nearby just add to the overall beauty of the airport.
10. Chhatrapati Shivaji International Airport (BOM), Mumbai, India
Chhatrapati Shivaji International Airport in Mumbai is not only an important transportation hub but is a cultural landmark in the city as well. It is among the busiest airports in India catering to a majority of international crowd and celebrities. The airport is not only beautiful but is dotted with a range of international-level restaurants, bars and designer stores.