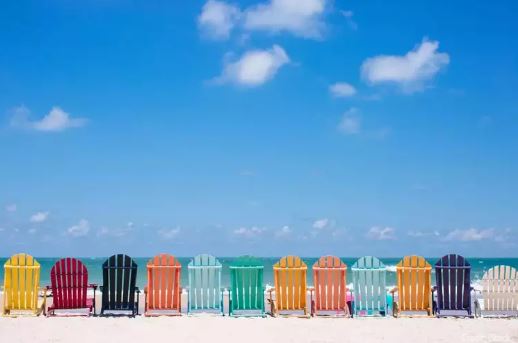 If you are a beach person who keeps looking for 'some interesting beaches' to explore, then you have landed on the right spot!
Because today, we are going to tell you about the world's most vibrant, gorgeous and colourful beaches. Some of these you might not even be aware of.
Offbeat and magical, these picture-perfect beaches offer photo opportunities that wouldn't even require any artificial filter!
1. Muriwai Black Sand Beach, New Zealand
Another gorgeous black sand beach in the world, Muriwai in Auckland is beautiful beyond words. The volcanic sand on the windswept beach makes for a scenic spectacle. It's simply beautiful!
2. Pfeiffer Beach, California
You'll be stunned to see the violet and deep-purple sand of the Pfeiffer Beach. With the deep blue waves crashing against the purple shore is a sight that one can't forget easily!
3. Pink Sands Beach – Harbour Island, the Bahamas
Counted among the world's most stunning pink sand beaches, Pink Sands Beach in the Bahamas looks absolutely magical. It is also among the world's top five beaches because of its rose-colour.
4. Reynisfjara Beach, Iceland
Do you know some of the prominent scenes of the popular series, Game of Thrones, have been shot at the unusually black Reynisfjara Beach? This near-perfect beach is set close to a fishing village called Vík í Mýrdal in Iceland. The black sand beach is surrounded by natural formations of basalt rock columns, caves and volcanoes.
5. Red Beach, Greece
Red Beach is considered as the most gorgeous beach in Greece. Located close to the Akrotiri ancient site, the beach is a visual spectacle. Imagine lying on a towel on a beach full of lovely red sand. You are surely going to have a blast.
6. Hyams Beach, Australia
You'll have to visit the beach to believe your eyes! This gorgeous white sand beach against the bright blue waters is a sight to behold. Located some three hours away from Sydney, this is one the whitest sands in the world. It is also listed in the Guinness Book of World Records for being the whitest beach.
7. Fort Bragg, California
This beach is as gorgeous and as colourful it gets! It's an unusual spot as it used to be a dumping ground for locals. In 1967, the space was cleaned up, and the sea waves smoothed the beach further over the time. Today the beach shines like the sun!
8. Papakōlea Beach, Hawaii
For those who don't know, Papakōlea Beach is a rare site and one of the only four green sand beaches in the world! Situated in Big Island, the beach is in proximity to the famous Mauna Loa volcano. The beach is also known as Mahana Beach and Green Sand Beach.