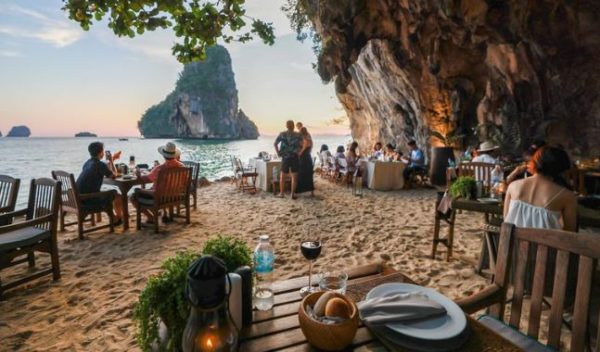 It's common practice to dig into the details of a destination before jetting off and 80% of travellers are putting food and drinks at the top of their research list, as revealed by Global Food Tourism data.
Among the ultimate foodie havens for South Africans, Thailand shines brightly.
This enchanting country, celebrated for its culinary legacy, perfectly satisfies the cravings of South African travellers with its delightful fusion of shared culinary passions, lively flavours, and captivating traditions.
Sadudee Sangnil, the director at The Tourism Authority of Thailand in London, highlights that food tourism has revolutionised the way people travel and immerse themselves in diverse cultures.
"Rather than solely focusing on famous landmarks or tourist attractions, travellers now seek immersive culinary experiences that allow them to explore a destination's food culture.
"Thai cuisine, in particular, has gained international recognition because of this and offers an authentic culinary journey that crosses borders, making it a delightful adventure for South African food enthusiasts."
Sangnil says South Africans are known for their love of spice and zest which is why she believes Thai cuisine resonates well with their palates.
"Apart from the delicious dishes that can be enjoyed in restaurants, Thailand's gastronomic appeal extends to its energetic street food culture which is also big in South Africa.
"The vibrant food markets that are perfectly positioned on the streets of Bangkok, and in other cities, draw visitors' attention with their tempting selection of food stalls.
"Thailand's fusion of diverse flavours, vibrant food markets, and cultural wonders make it an ideal destination for South Africans to indulge their passion for food all while exploring the culinary treasures of the Land of Smiles."
As South Africans plan their next itinerary to Thailand, the below stops should be included:
1. Jay Fai, Bangkok
Jay Fai in Bangkok is a legendary street food restaurant that has garnered international acclaim.
Founded by Supinya Junsuta, in the 1980s. The restaurant offers an authentic and unforgettable culinary experience, earning it a coveted one-Michelin star rating.
With its vibrant flavours, meticulous preparation, and bustling street food ambiance, Jay Fai continues to delight food enthusiasts from around the world.
2. Tree Pod dining
This is a special one, imagine dining metres above earth, with spectacular views of Thailand. Koh Kood Pods is one way to fine dine.
To get to this one-of-a-kind Thai restaurant, customers enter a bamboo pod on the forest floor and are lifted 5m above the earth into Koh Kood's ancient rainforest.
Guests can choose from a selection of gourmet or luxury picnics in the air. The Luxury Picnic can be combined with champagne and prosecco tastings.
3. Cave Dining at The Grotto, Rayavadee
For travellers who enjoy something a little bit more authentic, The Grotto is a hidden gem, situated beneath an ancient limestone rock on the outskirts of the beautiful Phranang Beach.
It offers guests a unique cave-eating experience at Rayavadee's premier eating restaurants, guests can dine in a cave while taking in seaside views.
It's guaranteed to be a trip to remember if you make a pit stop at one of these unique restaurants, bae and the rest of the family will be happy.