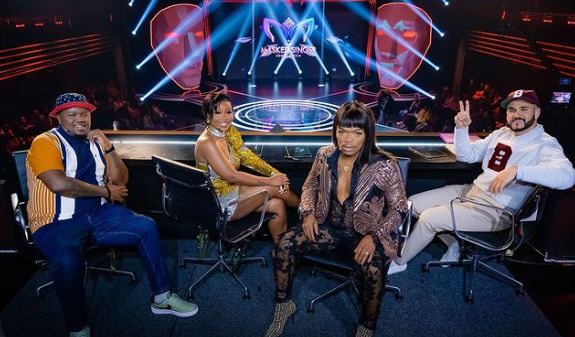 The Masked Singer SA trends on social media as people react to the new show after it got premiered this Saturday night.
The detectives on the show are Sithelo Shozi, Somizi Mhlongo, J'Something and Skhumbi.
Sithelo and Somizi also trend on Twitter as people applaud them over their looks, reactions on the show, and professionalism.
Sithelo who is a DJ got m0re applauds as this is the first of a kind for her and she delivered beyond the viewers' expectations.
Sithelo is so well spoken#MaskedSingerSA

— Doll face (@Mandz_Mtubase) June 3, 2023
You can see that Sithelo is in her element as a detective #MaskedSingerSA

— Di Helleng 2.0 (@Todi_M2) June 3, 2023
Damn Sithelo is a gorgeous hun…she aint even trying 😍😍🔥 #MaskedSingerSA

— IG:@Cliff_Mampz 🇿🇦 (@Cliff_Mampz) June 3, 2023
Sithelo's comentary in Zulu??? 🤣 , nah I'm enjoying #MaskedSingerSA 🙌🏽

— IG: Sintle_ (@SintlePearl) June 3, 2023
I'm loving #TheMaskedSingerSA 🙌🤩 Such a cool and entertaining show… great choice of detectives, (especially Sithelo… 😍 she's such a vibe).👌 The Lazy Makoti (Zebra) gave obvious clues… she made it easy for the detectives to know it's her… Can't wait for next ep.

— Lerato Zah (@lerato_zah) June 3, 2023
#TheMaskedSingerSA Seeing Sithelo makes me so happy 😊 ❤ what a beautiful woman pic.twitter.com/qXJutLHaNc

— Oratilee.k 💚 (@Oratile58692814) June 3, 2023