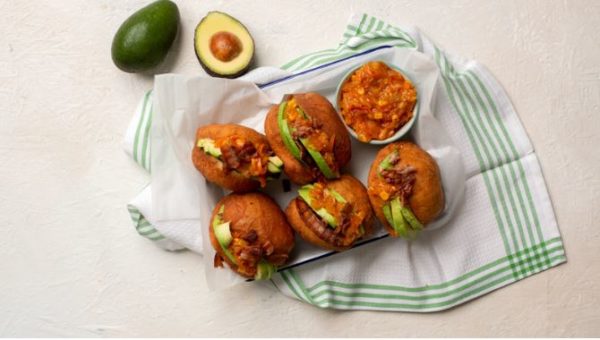 South African street food is some of the best in the world, including dishes authentic to the cultures they originate from.
It is made and sold by locals, so when you eat street food, you are getting an immersive experience of the country and its people.
Street food is a great option if you are travelling on a budget because it is a lot cheaper than eating out at restaurants and the quality is just as good.
Here are some of the foods you need to try this Heritage Month.
1. Vetkoek
Vetkoek is an iconic South African street food item consisting of deep-fried yeast buns that are usually filled with cheese, curry, or fruit jams. It can be served as a small snack, for breakfast or lunch. The ball-shaped dough is made from salt, yeast, and flour.
When served at a South African braai, vetkoek is often served with boerewors, a traditional sausage. You can also serve them as is, or with a cup of tea on the side.
2. Boerewors roll
Boerewors rolls remain a South African favourite. As one of South Africa's favourite food items, boerewors originates from Afrikaner farmers, hence its name. Boerewors is made from beef mince, pork fat, and spices.
Nowadays, South Africans from diverse cultural backgrounds prepare boerewors and give it their own unique twist, without diverting from the characteristic flavour for which the sausage is known.
3. Bunny chow
The humble bunny chow is a staple not only in Durban, but across South Africa. It represents the fabric of South Africa's rich and colourful heritage.
A bunny chow is made from half a loaf of bread with the inside scooped out and kept to dip in the gravy.
The hollow loaf is then filled with delicious authentic Indian curry made from lamb, mutton, or vegetables. Beef, chicken, or mince can also be used.
4. Sosaties (skewered meat)
Sosaties are one of the must-try foods and traditional meals. Introduced to the country by the Cape Malays, who play an integral role for their influence on South African cuisine, sosaties are unusual in the best of ways.
They are made from a curried apricot jam marinade and infused with garlic. The culmination of these tart and sweet flavours makes for a beautiful end result.
The meat is marinated and joined with a skewer, and lamb is often used as it pairs particularly well with the apricot jam and vinegar marinade.
During a braai, these sosaties can be eaten as appetisers, making them the perfect choice for South African snacks and meaty treats.
5. Gatsby
This one-foot-long local take on the classic sub sandwich is filled with fish, chips, and an amazing peri-peri sauce.
A Gatsby is made for sharing, hence it's usually divided into a few pieces and it comes in several variations. You can choose between chicken, steak, calamari, and viennas.