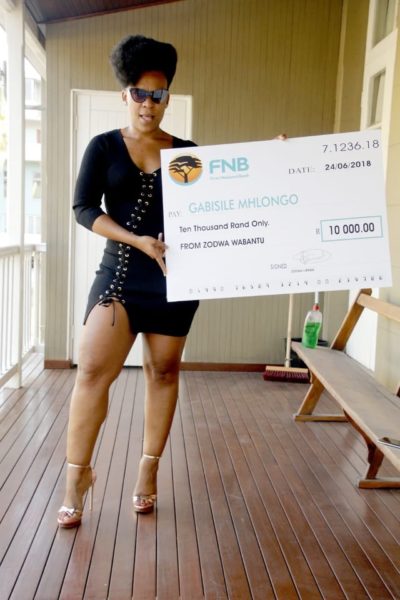 Social media has erupted with praise for Zodwa Wabantu after she handed a R10,000 cheque over to a woman with a disabled child, saying her charitable side was underrated.
Ever since Zodwa tracked down and donated the money to the woman, fans have filled social media with compliments and comments accusing the media of only showing Zodwa's "wig snatching" tendencies and "no panty" antics.
Zodwa told TshisaLIVE how amazing it felt for her to help and that the money she forked out felt like a small price to pay for the joy she felt as she handed the cheque over.
"She (Gabisile Mhlongo) cried and she couldn't believe that I had actually showed up. I was happy because I realised just how much I was helping her. I also hope that other people help her too, that money will help but more is needed."
Zodwa explained once again that she was just touched by the mother's story, which she stumbled across on social media and wanted to help the child however she could.
"I was just so touched by her story and I just wanted to help. I mean, I could have brought groceries but then I thought money would be better for her. It will help her search for the special school for her child and maybe do other things that have been keeping her from giving her child better things. I've waited a long time to be able to help. Her story touched me, I had enough money to help her, so I did."
Zodwa said she was not trying to play "good samaritan" and that she would help when and if she felt touched by certain situations.
She said she didn't even want to make a big deal out of helping Gabi but she felt that other people needed to see so that they could help her too.
"I'm an not driven by a need to please people, for me if it touches me and I can help, I will. I also feel like I am in a way better financial situation now because both my car and house are not debt, you know? So whenever something touches me like Gabi's story I will help."